Starting an online store can be overwhelming. Apart from basic eCommerce functionalities such as a shopping cart and payment gateways, you might also need a few other tools to boost your conversions and manage customer relationships. Therefore, it can be hard to single out the best WordPress plugins for eCommerce.
To save you the hassle, we've compiled a list of them. All of our recommendations are high-quality plugins suitable for all areas of your business. Some will boost your email marketing efforts, others your sales, and others your product strategies. We also have options to improve your site's user experience (UX).
In this article, we'll list the 18 top-notch WordPress plugins for eCommerce, divided into five categories:
All-in-one online store plugins
Every online store built with WordPress requires a foundational eCommerce plugin to provide basic selling and payment processing functionality. Here are the contenders.
WooCommerce is the go-to WordPress plugin for eCommerce. In fact, it powers over 25%[1] of online stores worldwide. It will help you turn your WordPress site into a fully functional shop, giving you all the necessary features every online retailer needs.
For instance, WooCommerce enables you to create bundled products, configure shipping options, add secure payment processors, and more. To learn about this powerful platform, check out our WooCommerce 101 guide and our WooCommerce tutorial.
💵 Price: Free with premium extensions
If you don't intend to sell any physical products, Easy Digital Downloads (EDD) might be an excellent alternative to WooCommerce. This plugin makes your digital-only sales easy by adding eCommerce functionality to your site.
With EDD, you can set up a shopping cart, maintain your customer records, offer discounts, and more. It also enables you to control file access and restrict the number of product downloads. If you'd like to learn how to sell using this plugin, check out our tutorial.
💵 Price: Free / $99 per year
Email marketing plugins
Email marketing is a valuable strategy for nurturing leads, boosting sales, recovering abandoned carts, and more. These plugins can help you collect customer addresses and manage your campaigns.
OptinMonster is a must-have tool if you want to boost conversions and grow your subscriber list. It helps you generate more leads with popup templates, personalized messaging, and beautiful opt-in forms. You can also apply page-level targeting and redirect traffic to specific areas on your site.
💵 Price: From $108 per year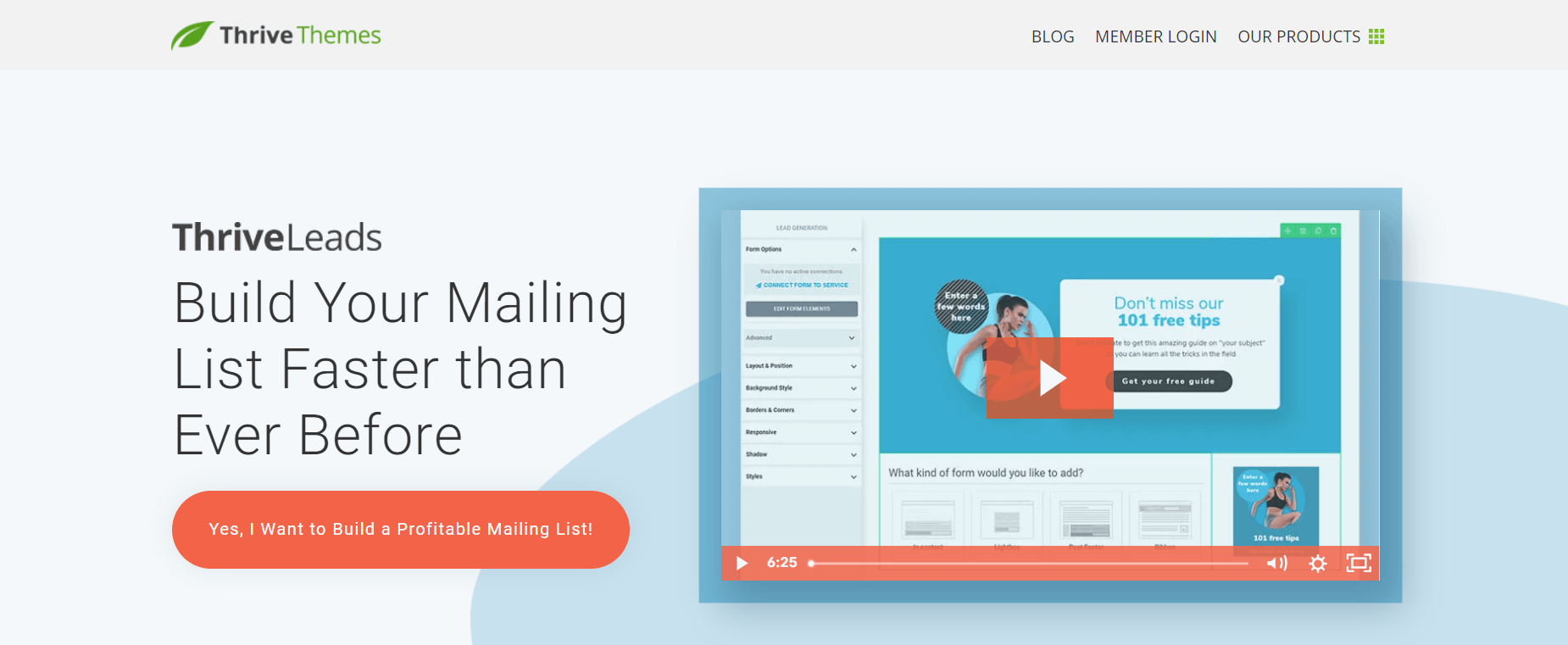 Another tool to grow your mailing list is Thrive Leads. Like OptinMonster, it can help you create effective opt-in forms with a drag-and-drop builder. It also enables you to target your offers at specific user groups and conduct A/B testing. Plus, it provides access to detailed statistics and reports.
💵 Price: From $67
For budget-conscious e-retailers, HubSpot offers a free customer relationship management (CRM) solution. It helps you convert visitors into leads and nurture them into loyal buyers thanks to tools such as a live chat, popups, and forms. It also gives you access to pre-built newsletter templates, and you can monitor your campaigns via built-in analytics via your dashboard.
💵 Price: Free
MailPoet is another free plugin to help you grow your mailing list. It enables you to create a newsletter opt-in form and manage your subscribers from your WordPress dashboard. You can also automate your emails and design responsive, transactional emails to upsell customers who purchased a specific item or reach users who've abandoned their carts.
💵 Price: Free for your first 1,000 subscribers, then pay as you go.
Sales funnel plugins
Guiding customers through the buyer's journey takes careful skill. These plugins will help you refine your sales funnel and boost conversions.
CartFlows can help you drive conversions by defining your site's sales funnel. It also comes with pre-built templates for your Upsell and Thank You pages, which you can customize with the Block Editor or your favorite page builder. Plus, it streamlines your checkout process and automatically sends emails to customers who've abandoned their carts.
💵 Price: Free / $199 per year
Advanced Coupons is an excellent addition to WooCommerce. It enables you to create various deals, such as "buy one, get one" (BOGO) offers. You can also apply discounts to specific products or entire categories. Plus, you can protect your coupons against accidental usage by restricting access to specific user roles.
💵 Price: Free / $79 per year
One Click Upsell Funnel focuses on post-purchase offers. It enables you to create unlimited funnels, offer upgrades to existing sales, or differentiate your deals with templates. You can also fully customize offer pages without any coding skills and test them in sandbox mode. Additionally, you can track your funnel data with Google Analytics or Facebook Pixel.
💵 Price: Free / $55 with one year of free support
UX plugins
Providing a smooth UX is key to converting visitors into paying customers. Here are some plugins that can help you refine your product displays, performance, and more.
Soliloquy helps you create an appealing visual presentation for your store. For instance, it enables you to add responsive sliders or carousels with dynamic transition effects. You can also choose from several pre-built templates, customize them with a drag-and-drop editor, and showcase your products in lightbox mode. Plus, you can import your Instagram feed and make your slides shoppable.
💵 Price: Free / $17 per year
Providing a top-notch user experience means being available and accessible. WP Forms can help you create fully responsive contact forms, which you can embed anywhere on your site. You can also choose from pre-built templates and craft customer surveys.
💵 Price: Free / $39.50 per year
If your pages take too long to load, your customers might leave. Therefore, LiteSpeed Cache is a must-have WordPress plugin for eCommerce sites. This tool will help you optimize your online store for speed by facilitating page caching, lazy loading of images, and more.
💵 Price: Free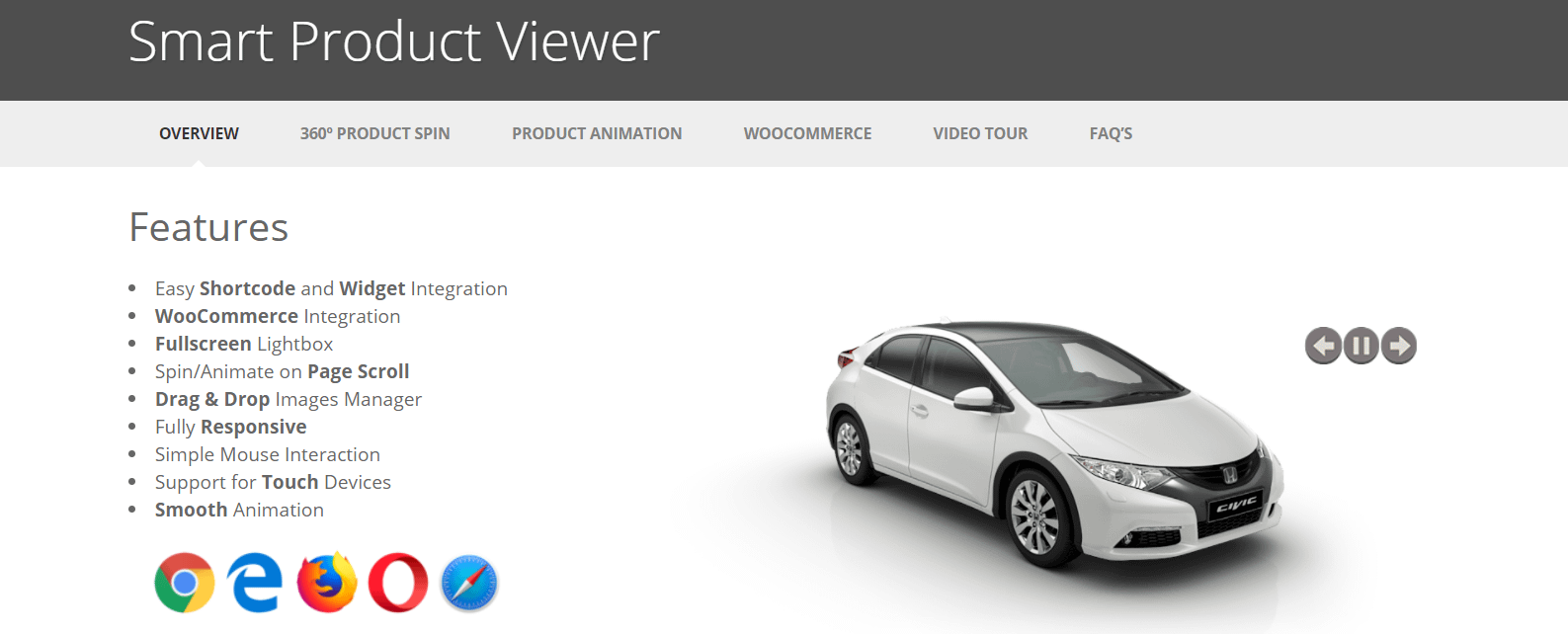 Smart Product Viewer is a 360-degree product animation plugin, enabling you to showcase your items from all angles. It's fully integrated with WooCommerce, so you can use animations instead of regular images for your product pages. Moreover, it's fully responsive and touch-friendly for use on all devices.
💵 Price: $21 includes six months of support
Most eCommerce sites rely heavily on images, which can slow down your website. Therefore, it's smart to use an image optimization plugin such as Optimole. This tool automatically compresses your new and existing JPEG and PNG files, which can dramatically improve your page loading times. Also, it enables lazy loading for images and connects your site to the Amazon CloudFront content delivery network (CDN).
💵 Price: Free for up to 5,000 monthly visits, then $19.08 per month
Booster for WooCommerce is a handy plugin that can dramatically improve your UX with various features. For instance, it can add other currencies to your website and automatically calculate exchange rates. It also enables you to create custom price labels and design your product pages with details such as Call for Price buttons.
💵 Price: Free / $89.99 per year
Product plugins and others
How you display and price your products is key to the success of your website. If you're looking for unique ways to sell them, these plugins can help.
WPC Product Bundles enables you to combine several products and offer them for sale as a package. It can also enhance your cross-selling strategies with discounts, customizable product bundle displays, personalized button text, and more.
💵 Price: Free / $29 for use on one site
Product Feed Pro generates product feeds for popular marketing channels such as Google Shopping, Facebook Remarketing, Bing Ads, and many more. You can choose from over 100 pre-built templates, add custom fields, and apply advanced filtering options. Plus, there's no limitation on the number of products you can include in your feeds.
💵 Price: Free
Our final recommendation is WooCommerce Product Table, an order form plugin to help your customers find and purchase items. It facilitates fast, one-page ordering so that users can select multiple products with one click. You can also easily customize your order forms with no coding skills and embed them anywhere on your site.
💵 Price: $99 per year or $299 for a lifetime license
Conclusion
Building an online store comes with many considerations. For instance, you need to ensure that your website is fast and fully responsive and that your product presentation is visually appealing. Therefore, it's smart to equip yourself with the best WordPress plugins for eCommerce to help you achieve your business goals.
In this article, we've discussed 18 of the best WordPress plugins for eCommerce. To recap:
All-in-one plugins: Build a fully functional store with WooCommerce.
Email marketing plugins: Grow your subscriber list with OptinMonster.
Sales funnel plugins: Drive conversions with CartFlows.
UX plugins: Compress your images with Optimole.
Product plugins and others: Create special offers with WPC Product Bundles.
If you decide on WooCommerce for your base eCommerce plugin, you should also check out our collection of 25+ must-have WooCommerce plugins.
Do you have any questions about these top WordPress plugins for eCommerce? Let us know in the comments section below!
Free guide
5 Essential Tips to Speed Up
Your WordPress Site
Reduce your loading time by even 50-80%
just by following simple tips.
* This post contains affiliate links, which means that if you click on one of the product links and then purchase the product, we'll receive a commission. No worries though, you'll still pay the standard amount so there's no cost on your part.