Your website's domain name is important…but finding a great name that's still available is tough. Fortunately, there are a number of domain name generators that can give you creative suggestions that are still available for registration.
In this post, we've collected 15 domain name generators that can all help you generate ideas from one or more seed keywords.
While they all fulfill that basic promise, they do it in different ways. To help you understand what types of suggestions each tool generates, we'll run a real test using the same seed keyword for each tool. Let's dig in.
15 of the best domain name generators
1. Domain Wheel
Domain Wheel is an AI-powered tool that comes up with keyword combinations, synonyms, and related keywords to improve your search. Besides suggesting random creative names, it shows only available names. The friendly interface allows you to search within the TLDs you desire from a dropdown.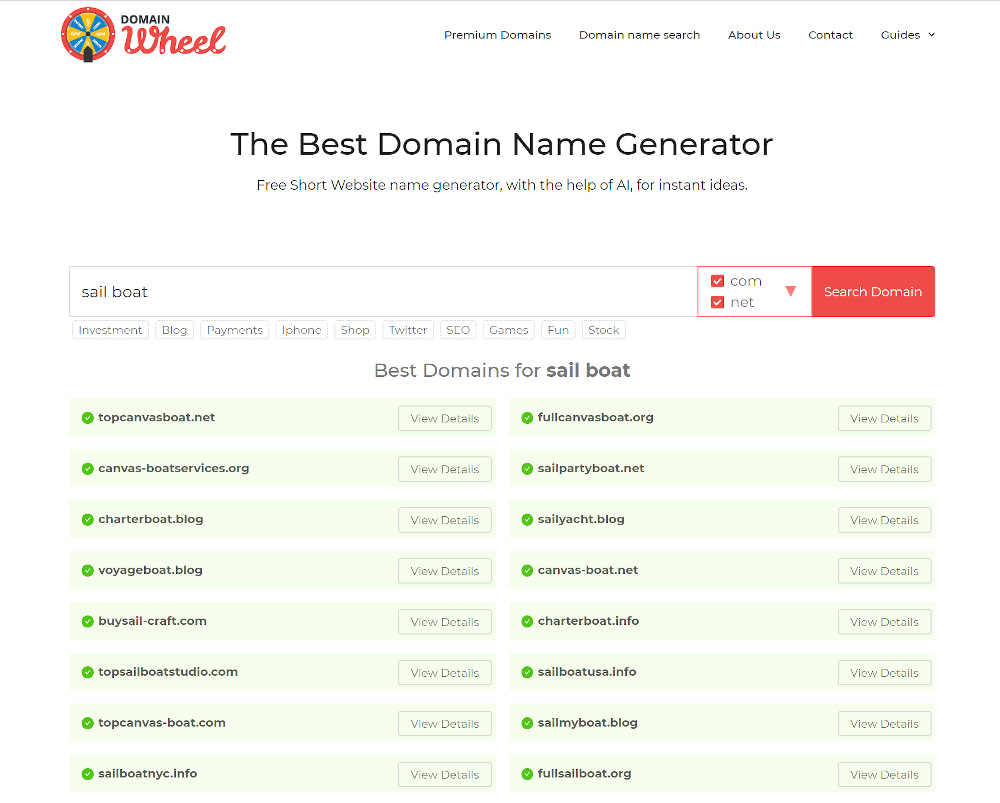 However, there's no option to check social media availability.
2. Panabee
The domain name search tool in Panabee mixes up the letters/syllables of your keywords or adds letters to come up with suggestions. It also throws up a separate list of related keywords for every word you type in. You'll be able to play around with various combinations to come up with something unique. Also, Panabee has a wide choice of country-wise domains and allows you to check social media availability.
Overall, the suggestions are usually a little more "out there" than other tools.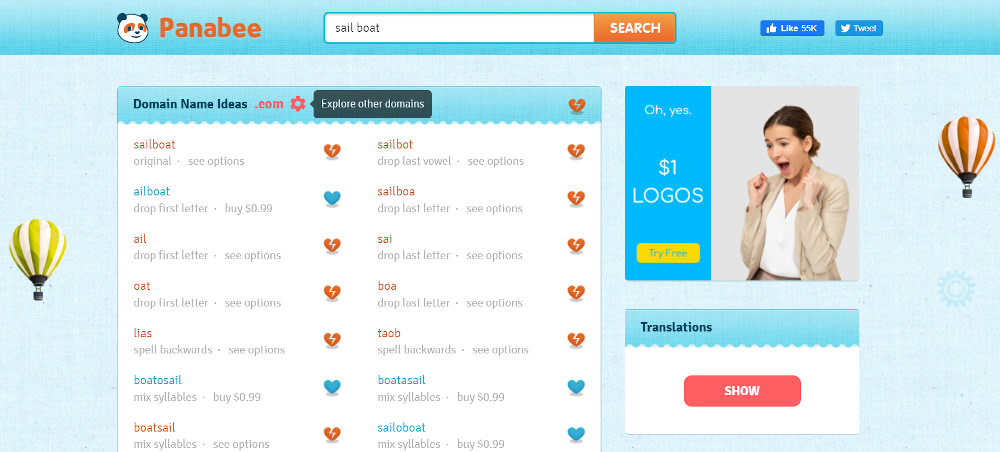 What can be limiting is that the tool restricts you to just two keywords.
3. Namelix
Namelix allows you to choose filters based on brand names, length of the names, and the way you want to include keywords – rhyming, misspellings, etc. I must say their AI-based tool is awesome. It came up with a number of interesting names, including premium names. And print quality vector logos too. You can save the names to enable better recommendations.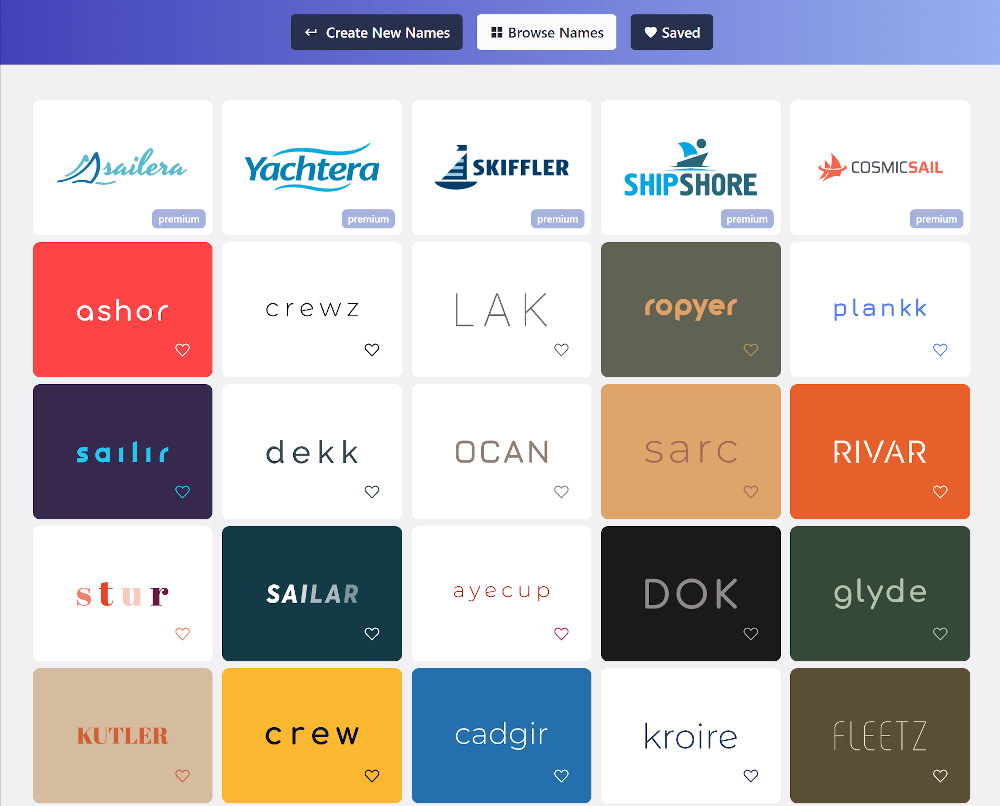 The premium names are somehow better than the free names. Nevertheless, it's a great tool if you're looking for logos or even designs to go with your name.
4. NameMesh
NameMesh offers great scope for playing around with keywords using a thesaurus, antonyms, synonyms, prefixes, suffixes, or even overlapping words. Further, you can specify words that must be included, or allow the tool to suggest only a letter or number. It suggests hyphenated versions of your keywords and can convert your chosen name by overlapping domain names with TLDs (like Foc.us). It covers a large number of TLDs, categorizes available names to make selection easier, pays attention to SEO, and indicates social media availability.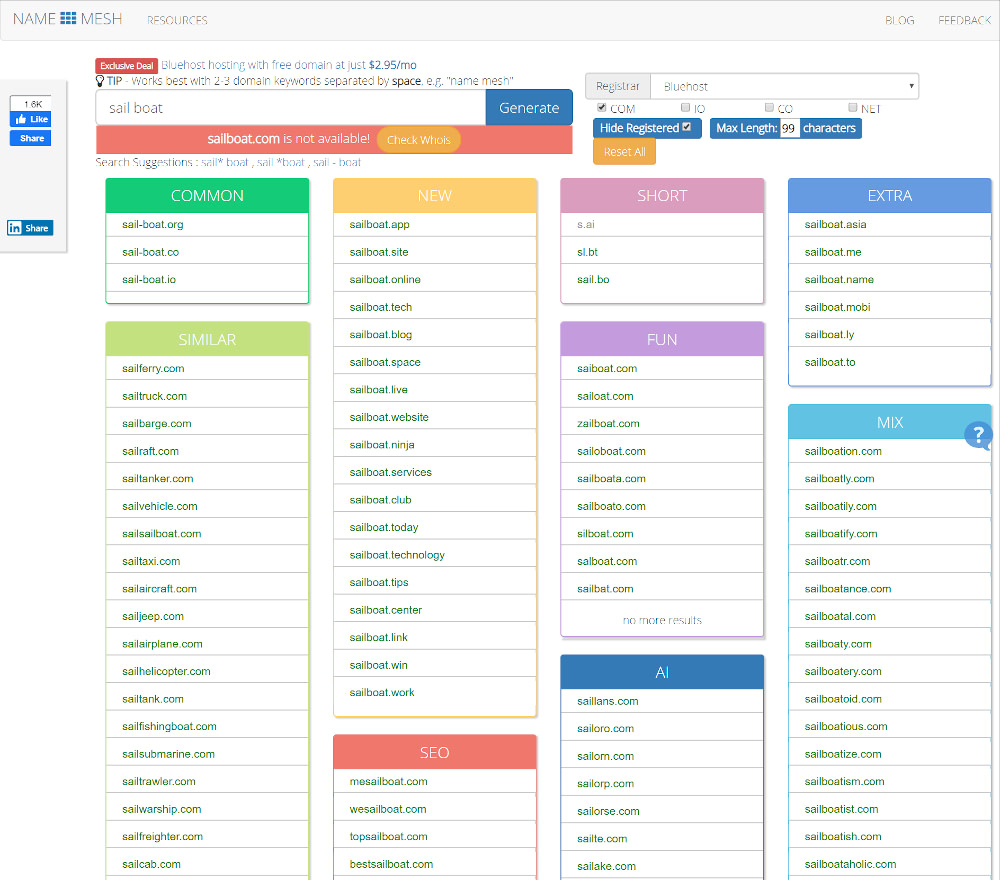 Unfortunately, it doesn't include related keyword suggestions.
5. LeanDomainSearch
LeanDomainSearch pairs your search phrase with commonly used keywords to suggest and display available names with 95% accuracy. Moreover, it sorts results by popularity, length, or alphabetically and filters them in order of keywords. It checks availability on Twitter too.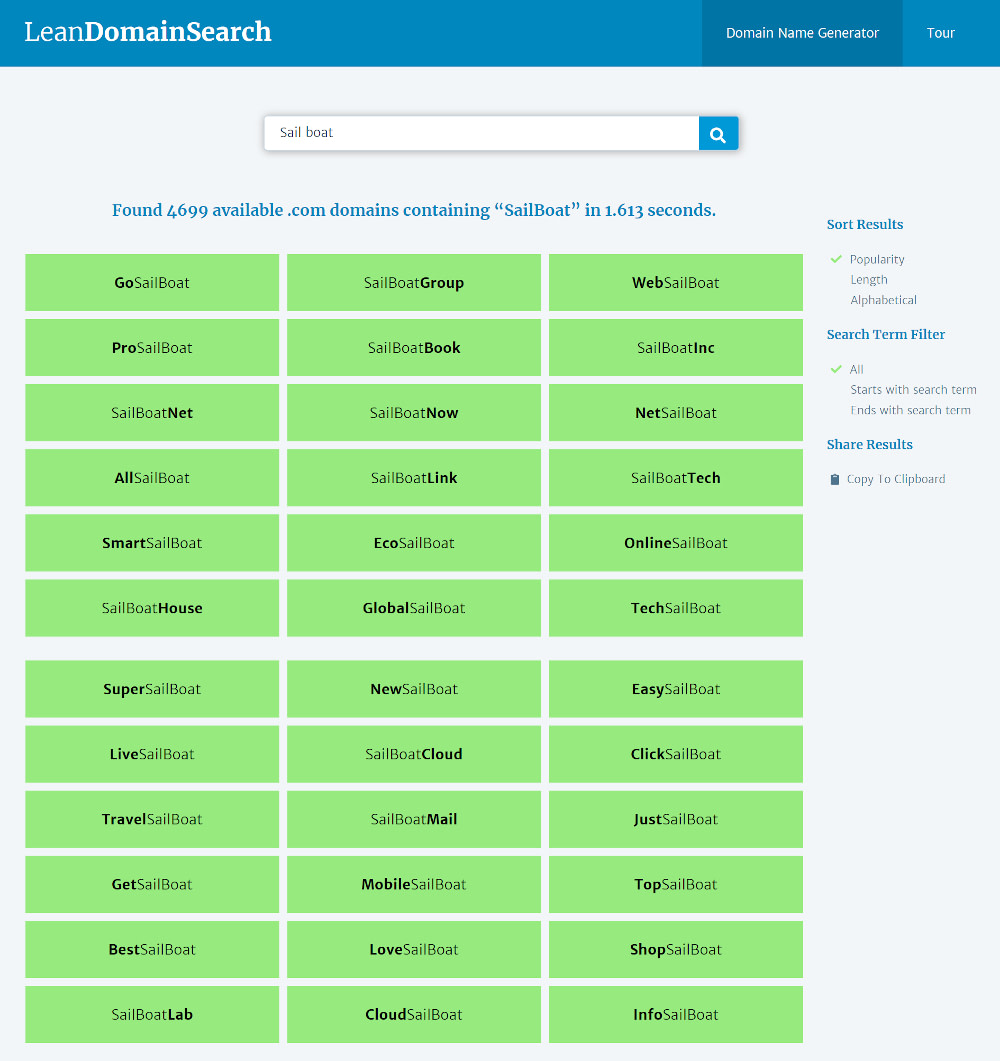 However, it's somewhat restrictive allowing only letters and spaces and skipping numbers and hyphens. Moreover, it only checks .com availability – not other domain extensions.
6. DomainsBot
DomainsBot comes up with relevant name suggestions in 11 languages across all available TLDs. You can filter the result by language, extension, and related keywords. It shows only available names, using data to constantly improve suggestions and display the most relevant variations and TLDs.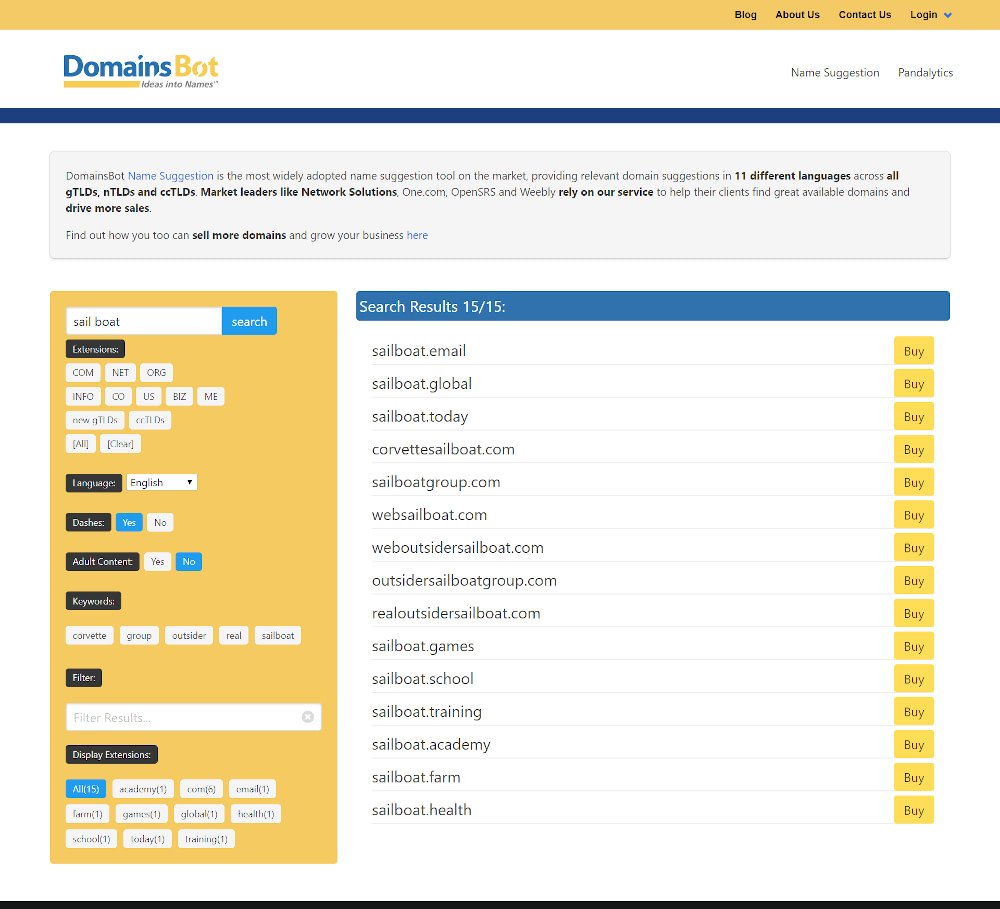 However, because it attempts to stay true to the original query, it doesn't offer very creative name suggestions.
7. Bust A Name Domain Maker
The most striking feature of the Domain Maker from Bust A Name is that you can choose how natural-sounding your name should be. You can search for names in multiple languages and TLDs, and restrict results to available names anywhere between five to 15 characters. Besides, there's an option for random sounding names and to save the name.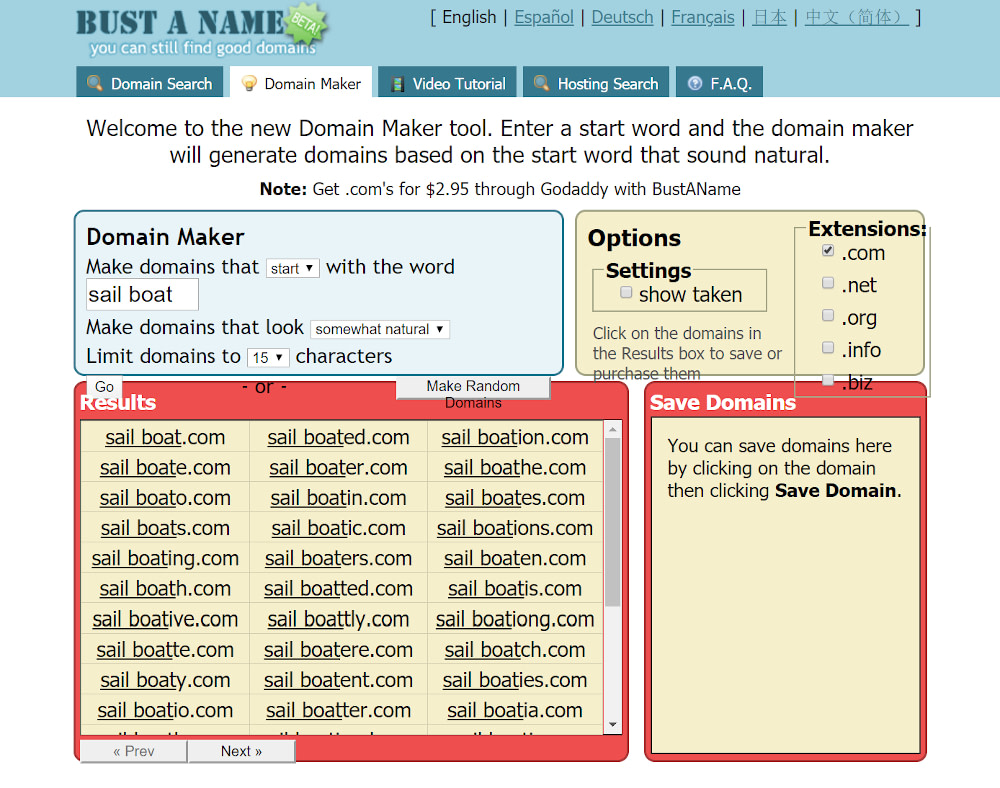 Be warned that the random name generator is truly random. The tool is definitely worth a shot anyway.
8. Nameboy
Nameboy combines words, prefixes, suffixes, and the keywords you type in to suggest suitable names. You can start with two seed words and optionally allow hyphens. Search results include popular domain extensions like .com, .net, .co, .org, .info, .blog, .biz, and more.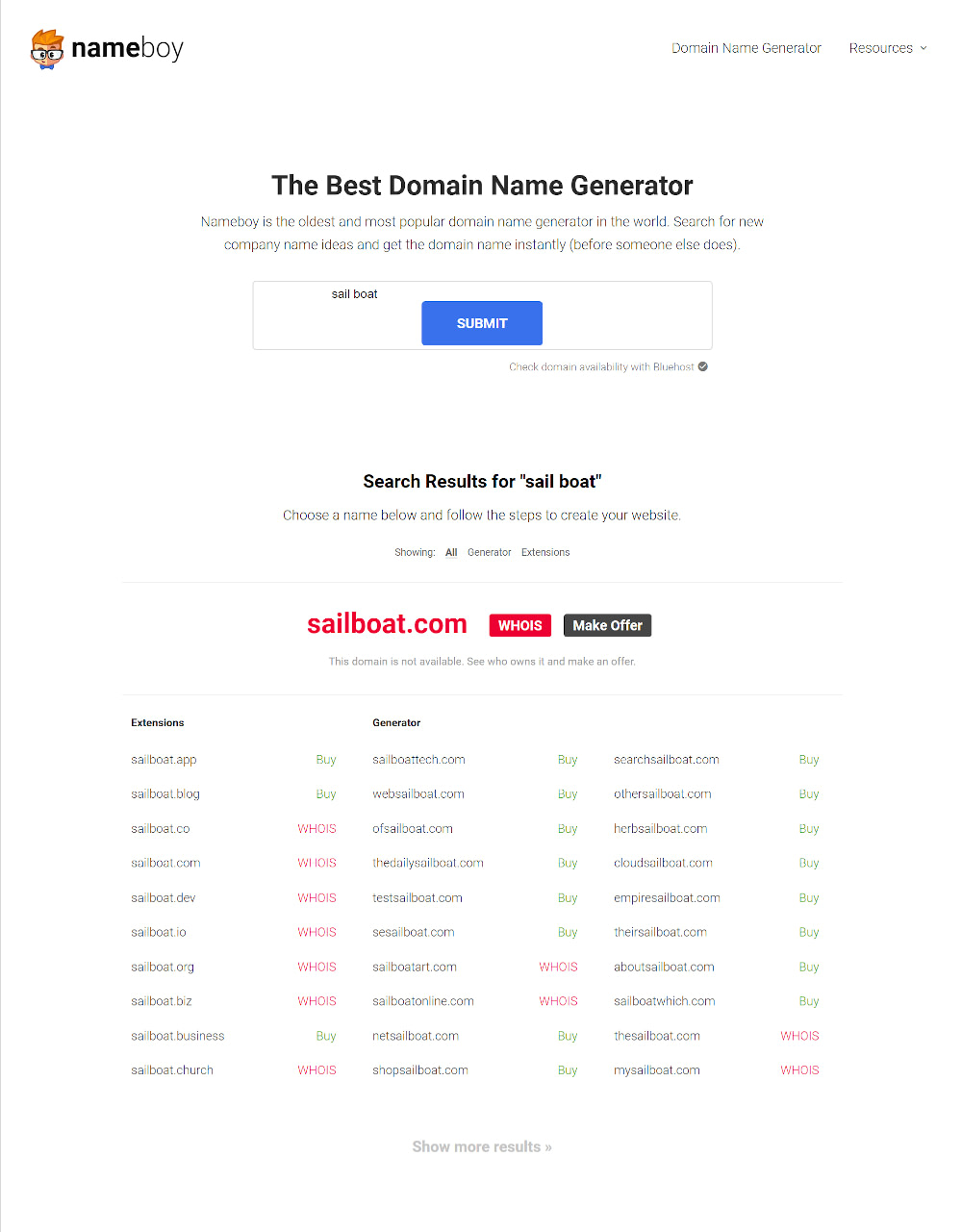 It doesn't check social media availability. Moreover, it relies on Bluehost to check domain availability.
9. Domainr
Domainr checks availability in real-time, allowing you to search 1,700+ top-level domains. It makes intelligent context-aware suggestions even as you type your keywords and then ranks the options based on name, features, and price.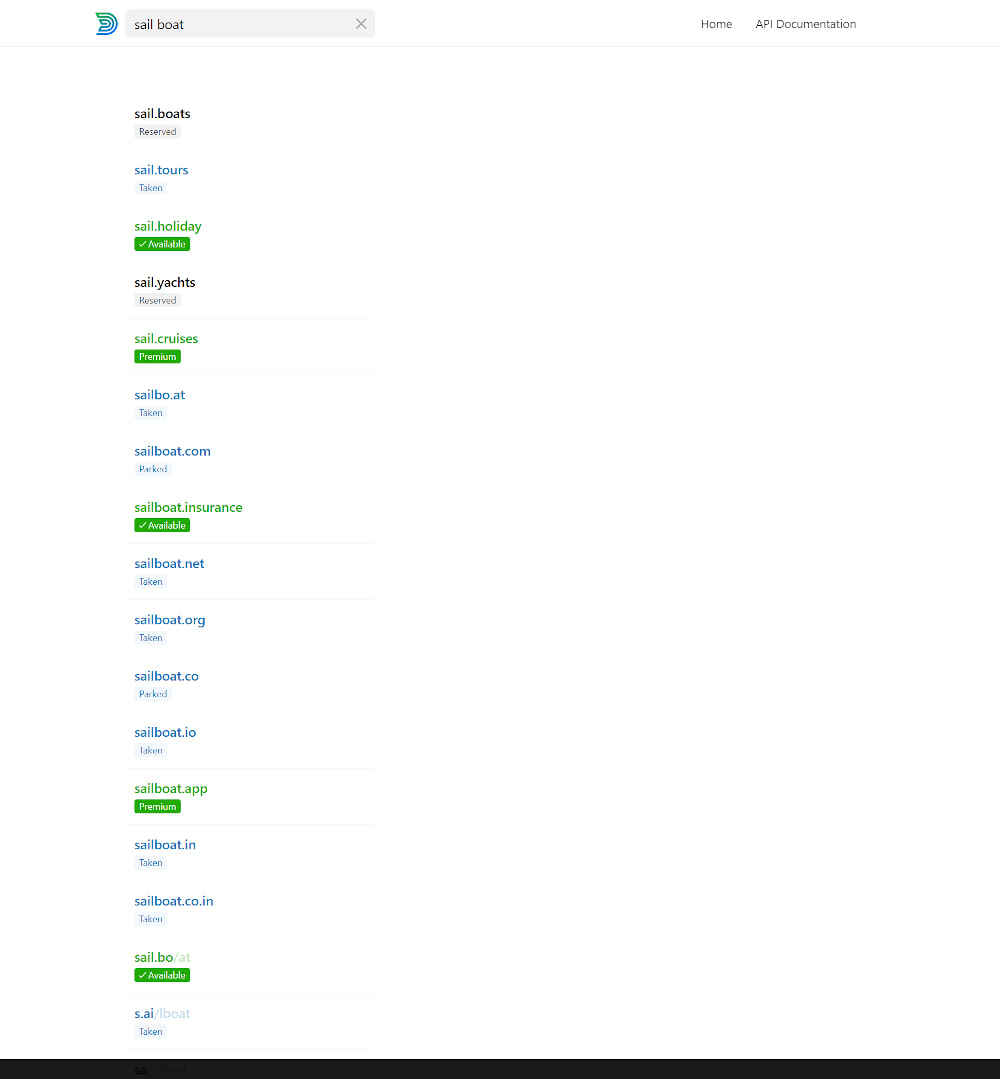 However, Domainr doesn't offer any creative suggestions, nor does it allow for too much wordplay.
10. Business Name Generator from Shopify
You can also look for suitable names using the Business Name Generator from Shopify. For my keywords 'sail boat', it came up with 100+ suggestions, many of them actually usable. Besides, if you're planning to use Shopify to launch an online store, you can go on to register your name.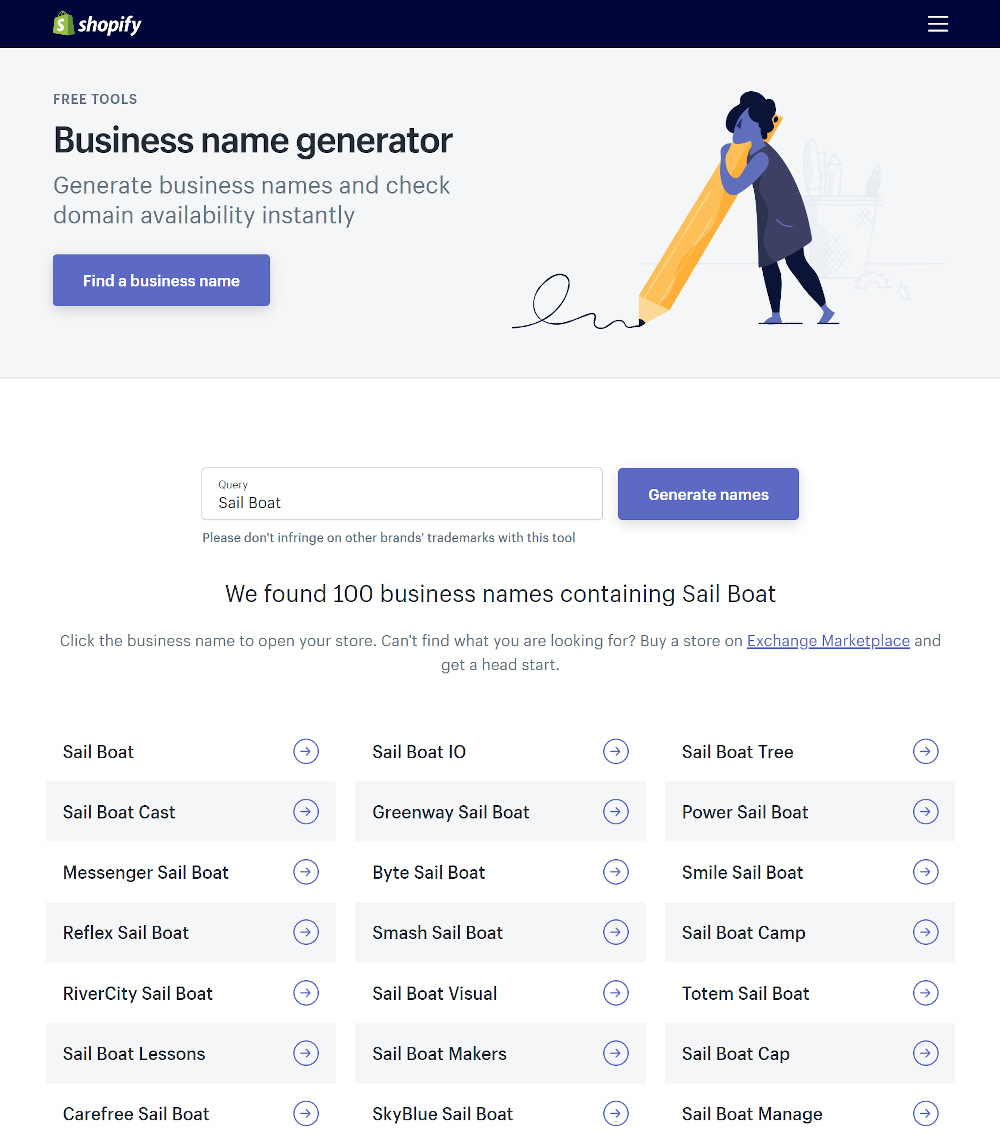 Unfortunately, it only checks .com availability and the tool only lets Shopify users register domain names (you could, of course, take the suggestions and use your own domain registrar).
11. Domain Typer
The instant domain generator from Domain Typer came up with a number of interesting solutions for my keywords. But what's helpful is that you can favorite the names and instantly check for availability in any number of extensions, as well as on a number of social networks.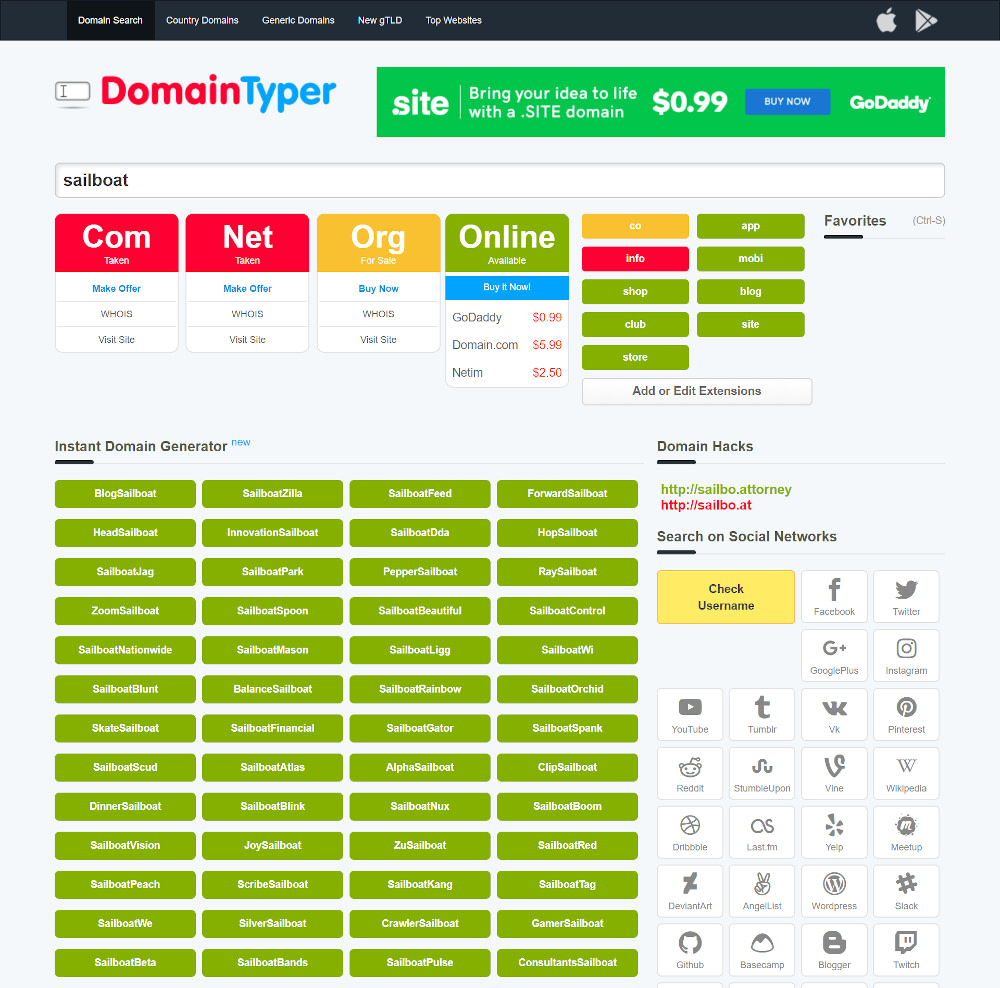 Sadly, the tool did not allow any spaces, so you'll probably have to stick to a single keyword – no phrases or multiple words usage.
12. Wordoid
Wordoid is an intelligent phonetic based tool that comes up with names you won't find in the dictionary. Among the domain name generators, this tool is the one that works with multiple languages simultaneously so your name can have a cosmopolitan feel. It allows you to customize based on length, quality, as well as favorite names or revisit your searches.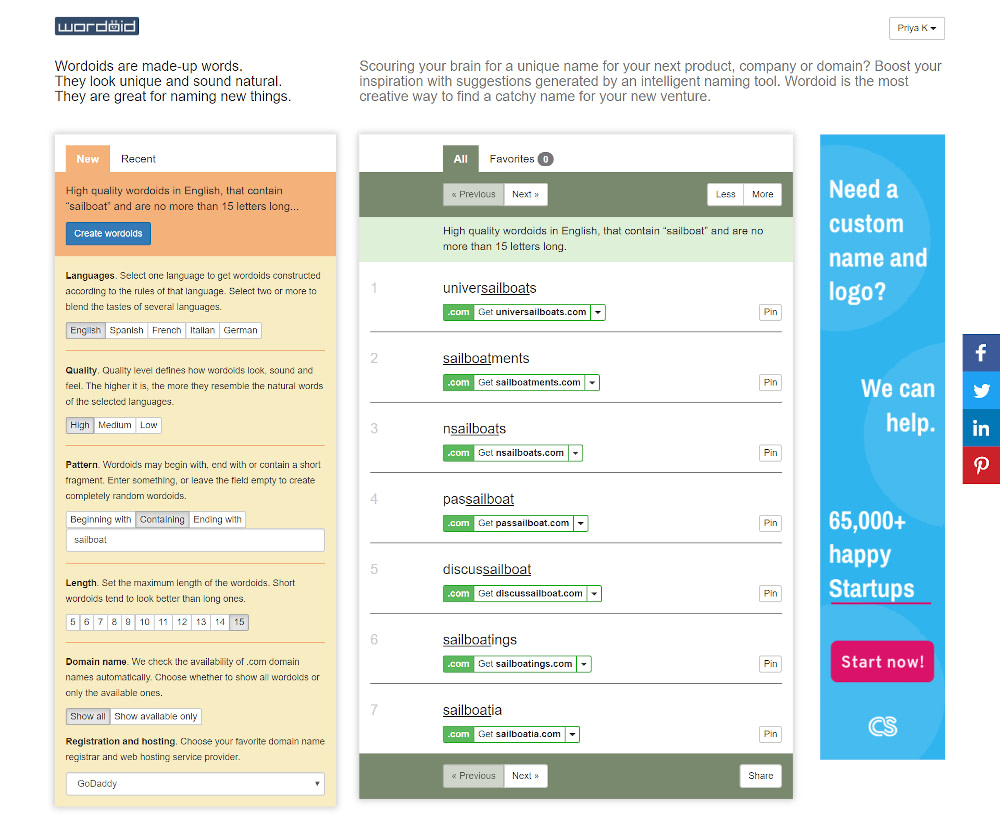 It offers names up to 15 letters long, no hyphens or spaces. Keywords can be only up to ten letters long with no spaces.
13. NameStation
If you'd like creative inputs from other people, you can host a contest on NameStation and crowdsource name suggestions. In that sense, NameStation works more like a community. However, you can use it just like other normal domain name generators too. The rich suggestion menu allows you to play around with words in multiple ways, and apply extension and other filters.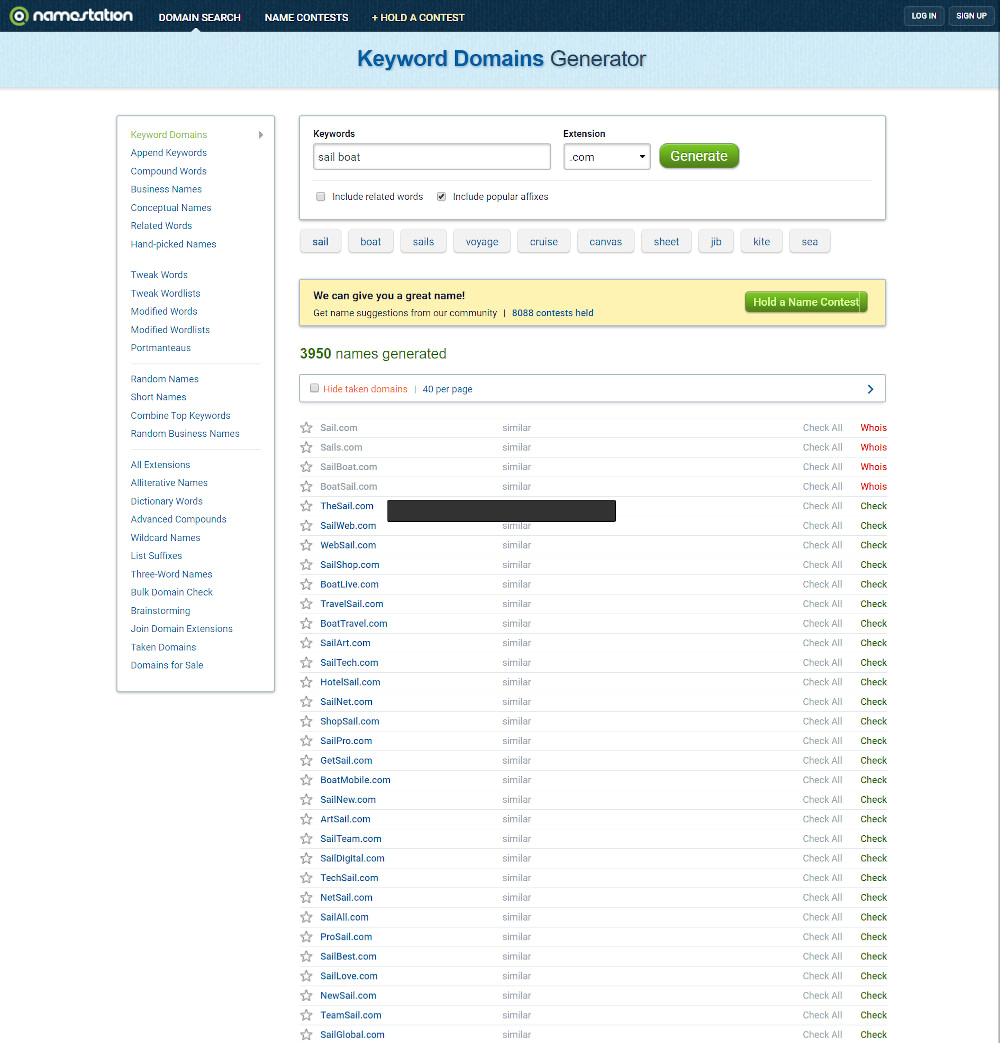 While a whole bunch of options are free, the full service including checking name availability requires you to register for an account.
14. DomainIt
A Quick Search feature in DomainIt enables its users to evaluate domain name ideas quickly. It's also helpful in finding variations and alternative keywords. You can go on to refine the results by tweaking parameters such as the inclusion of hyphens and number or length of words.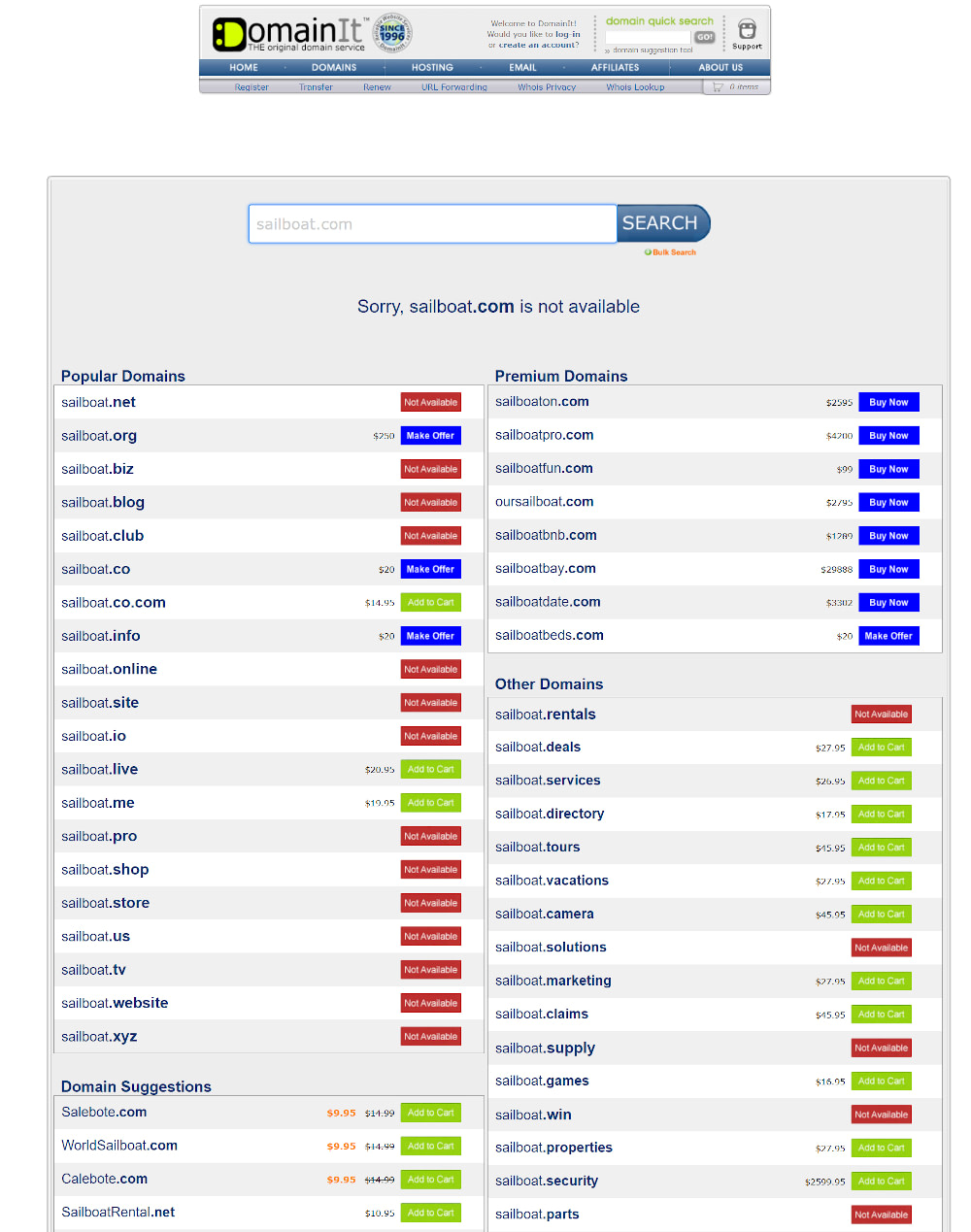 Like many other domain name generators, it does not check social media availability.
15. Namecheckr
Namecheckr is not a name generator by itself. But if you've got a name and simply want to check availability across multiple platforms, you really should try this tool. It checks many TLDs as well as a good number of social networks and forums.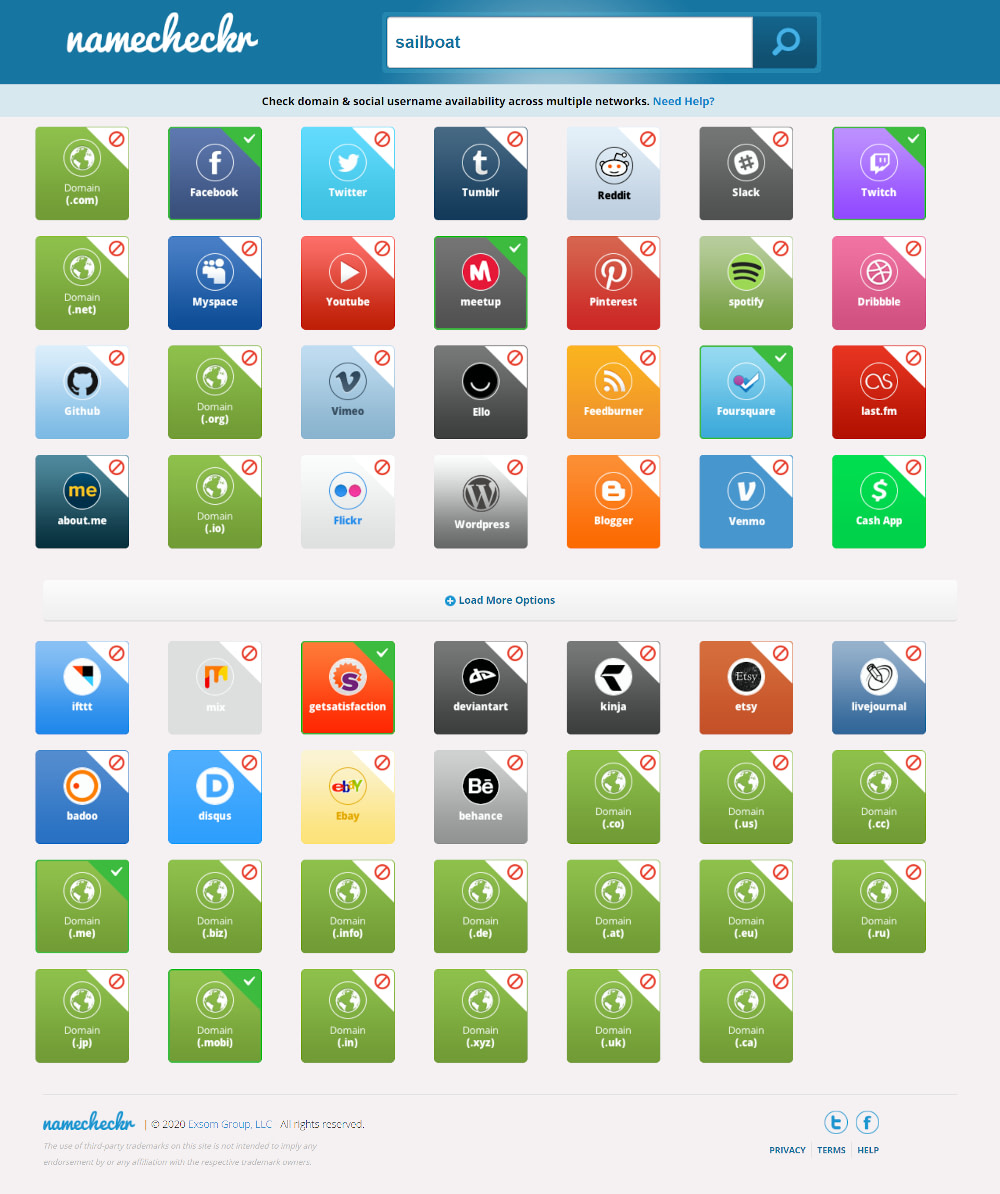 Find the perfect domain name today
Finally, once you have your domain name, you'll probably want to match it to a website – these two guides can help:
Do you have any questions about choosing a domain name? Ask us in the comments section!
Free guide
5 Essential Tips to Speed Up
Your WordPress Site
Reduce your loading time by even 50-80%
just by following simple tips.