Just to make things clear, here's what I mean by WordPress hacks: Cool stuff you can do on your WordPress site (to make your content work easier) without any coding skills required. In this case, we're using the phrase "WordPress hacks" in its 100% positive meaning, none of that troublesome shady stuff.
So that's what this post is about – making your life easier, saving you time, and making you an efficiency blogging machine!
How? By teaching you about the cool WordPress features most people don't know about when they first start working with the platform.
In this article, I've compiled 10 handy WordPress hacks that will change the way you blog forever.
Again, these don't require any sort of coding or technical knowledge, and you can implement them into your blogging routine immediately.
Let's get started!
10 WordPress hacks to make you a super-blogger
1. Duplicating posts
Let's say you have a certain format or structure that you like to stick with when crafting blog articles.
Instead of creating a new draft, opening your existing articles, and copying and pasting the content into your new draft, you can simply use a plugin called Duplicate Post to "clone" posts with one click and then edit them accordingly.
The plugin will give you a new "clone" option under each of your existing posts:
2. Switching heading styles
This is one of my favorite WordPress hacks. All that highlighting and mousing over to the drop-down list of headings is unnecessary – with this hack, you'll be able to switch heading styles with the tap of a key.
Simply place the cursor on the line you want to change, and press either:
SHIFT + ALT + heading number (for Windows users)
OPT + CONTROL + heading number (for Mac users)
If you want to change a paragraph to H3, for example, just hit OPT + CONTROL + 3 (on Mac). This works all the way until H6!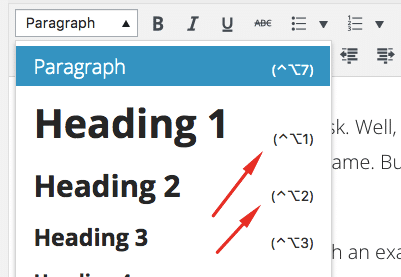 3. Style your text quickly with Markdown
The thing called Markdown helps you style your text easily and quickly. And the best part is that it's enabled in the current versions of WordPress by default.
Here are a couple of things that you can do:
Create new heading styles by putting ##  (mind the space after the two "#" signs) at the beginning of your heading then writing your heading text normally, and finally approving it by pressing the Enter key. The text will be converted into a heading automatically.
Create block quotes in a very similar fashion. This time, use >  and then the rest of your quote.
Create lists, both bullet lists and numbered lists. For the former, use - . For the latter, use 1. .
4. Add live links with a shortcut
If you're linking out a lot to other content when writing your posts, you'll benefit from this one a lot!
Basically, instead of having to select the text you want to add a link to and then clicking the "Insert link" button from the toolbar, you can do it in a simpler way:
First, make sure that the URL that you want to use for the link is in your clipboard, then just highlight the text you want to link, and press Ctrl+V. The link will be included automatically.
Pro Tip: With WordPress' new link boundaries feature you can also edit your link anchor texts more neatly.
5. Moderate comments via keyboard shortcuts
There are plenty of keyboard shortcuts that you can utilize with your editor, but did you know that there are also specific keyboard shortcuts that you can use to moderate your comments section?

Activation is straightforward – just navigate to the WP Admin → Users → Your Profile, and check the Keyboard Shortcuts checkbox. You're done! Select your comment, and then use the following keyboard shortcuts to moderate it.
6. Adjust your default editor toolbar
By default, WordPress gives you a handful of options in the default editor toolbar. This one:

But with a simple plugin, you can expand it to this:

With this thing, you can easily add quotes, code blocks, and even tables. This is all done by a handy plugin called TinyMCE Advanced.
After you've installed and activated it, you can adjust your editor toolbar in Settings → TinyMCE Advanced.
7. Upload and edit multiple images at once
A picture is worth a thousand words, but all the uploading, editing and optimizing work that goes on behind the scenes sure is a pain.
To simplify your photo uploading and editing process, you can use the NextGEN Gallery plugin, which is the most popular WordPress gallery management system there is.
With this plugin, you can batch upload photos, import meta data, add/delete/rearrange/sort photos, edit thumbnails, create tags, change alt and title texts, and more. You can even add text or image watermarks to your photos with this tool!
8. Organize your editorial workflow
If you work with freelance writers or guest contributors and get them to draft their articles directly on your WordPress site, the "Pending Review" function will help you to organize your editorial workflow and prevent unnecessary back and forth.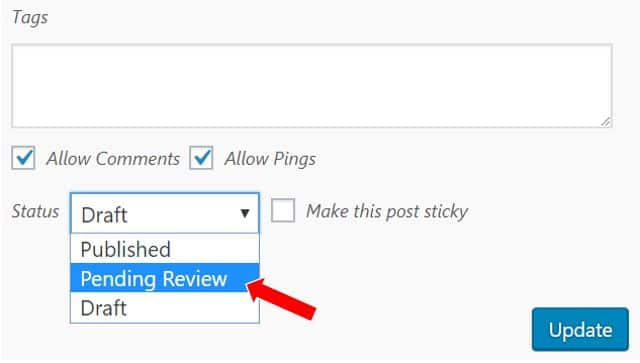 Get your writers to set the status of their posts to "Pending Review" whenever they're ready to submit their articles. With this nifty trick, you won't need to sift through all the draft posts on your WordPress, and you'll be able to tell – at a glance! – which articles are ready for you to vet.
If you think you need more than that, you can install the Edit Flow plugin. It will give you the ability to create custom post statuses, such as: Edited, Archived, Written, or whatever else you see fit.
9. Search for stock photos within the WordPress editor
Why open up a separate tab or window to search for stock photos, when you can do so without leaving your WordPress editor?
With ImageInject, it only takes three clicks to insert an image into your blog post. The plugin searches free creative commons images for the keywords of your choice and automatically adds the required attribution links. You can also insert multiple images at once, and populate alt and title tags of each image automatically.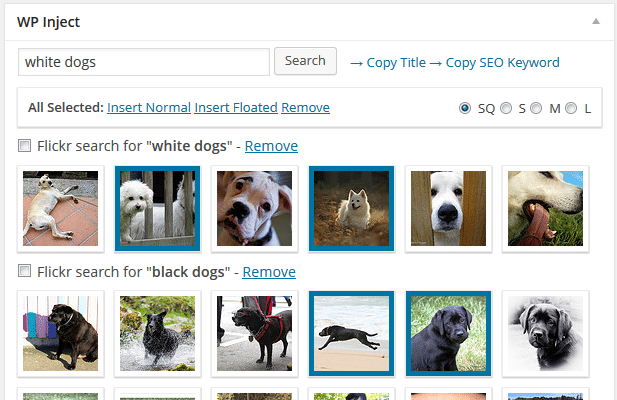 10. Clean up your WordPress dashboard
If you've installed plenty of plugins, your WordPress dashboard can get pretty cluttered.
Want to clean it up so that it isn't such an eyesore?
Simple. Click on "Screen Options" at the top right corner of your dashboard, and a list of all the widgets/blocks which you've got on your dashboard will appear. Hide the ones which you don't want to see. Simple. Also, you can drag and drop your remaining widgets to arrange them in the order which you prefer.

But that's not all! You can actually go much further when it comes to customizing your admin interface. We wrote about those things in a separate guide. Basically, you can change anything from the look of your login page, to the panels on the dashboard, to the visual appearance and the color scheme of the dashboard. Cool stuff. Check it out.
Some final words
Go forth, young Padawan. With all these WordPress hacks at your fingertips, you're all set to increase your WordPress productivity exponentially, and make the most out of your time spent blogging.
Up for more advanced stuff? Check out this article which will help you dip your toe into the world of coding. With a few lines of code, you can customize your footers, auto-resize your featured images, and do many other things!
If you want to build up your arsenal of resources, here are 50 free WordPress web design resources for your next project, and 9 blogging tools for SEO, marketing, content creation and more.
It's time to take your blogging to the next level!
If you enjoyed this post, please share it so we can make more WordPress ninjas!
Free guide
5 Essential Tips to Speed Up
Your WordPress Site
Reduce your loading time by even 50-80%
just by following simple tips.