Why does anyone need the best password managers? The instances of security breaches and identity thefts are growing in numbers, and the only way to ensure that your information and data remain secure is through a strong password. All of us understand the importance of security and while we work remotely, it has become more than essential to secure your accounts with a strong password. All of us have gone through the challenge of memorizing dozens of passwords or using the same password all the time, which can prove to be harmful.
If you are someone who often gets locked out of your online account because you cannot remember the password, you need to use a password manager.
It can handle all your login credentials seamlessly. Additionally, they come in handy for auto-filling forms and syncing the data across multiple devices. A password manager is a digital encrypted vault that will store the information you use when you log in to access accounts and apps. Besides keeping the passwords safe, it will also help generate strong and unique passwords so that you do not use the same password across all websites.
With the right password manager, you do not need to remember all the details of your login information. There is a master password and in many cases, a fingerprint will autofill a password field. Let's take a look at the features you need to look for in password managers and consider the top 10 best password managers available today.
Features to look for in best password managers
Let's take a look at some of the features that should be present in best password managers.
End-to-end encryption
One of the most important features of a quality password manager is encryption. This is a must-have. Advanced encryption will ensure data security no matter what happens.
With end-to-end encryption, your data will be indecipherable in transit and at rest. Even the service provider will not be able to access your password. All they do is store the encrypted and indecipherable version of the data.
If the provider is hacked, do not worry, your passwords are safe. End-to-end encryption will ensure that the data is stored at the highest level of security with no knowledge about the actual data that is being stored.
Multi-factor authentication
You must ensure that the password manager has multi-factor authentication so that you can log in using a main password and a secondary authentication method. This will ensure that even if the master password is compromised, the account remains secure. You can have a secondary authentication method which is a one-time password or a code generated through an authentication app.
Role-based permissions
The third crucial feature of a password manager is role-based permissions. This feature allows the administrators to choose who has access to which password, and if you set it up efficiently, it will ensure that an employee can only access the passwords that are necessary to fulfill their role. The feature will make the organization more secure and will reduce the number of people who have access to the password.
Web monitoring system
This is a premium feature on a lot of password managers. A web monitoring system will scan the internet and notify you if the password is being used or shared anywhere else. This will alert you and you can change the password right away to make sure that your accounts are always secure.
10 best password managers in 2022
The right password manager can help save a lot of time and effort you would otherwise spend on trying to recover the valuable assets or resetting the credentials to which you do not have access.
Let's take a look at the best password managers on the market (in no particular order):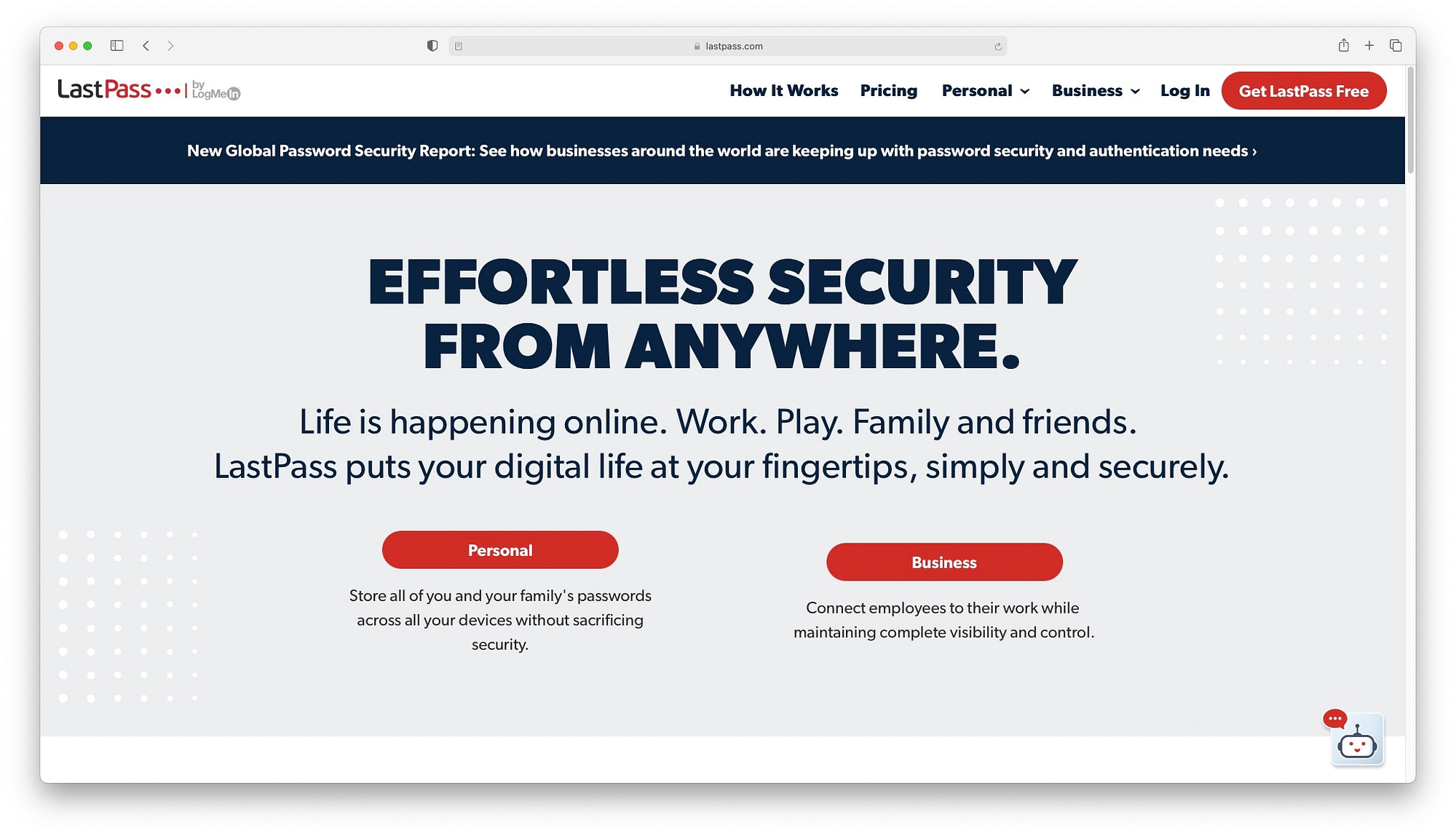 LastPass has a free version that enables you to store passwords, credentials, and user login details and sync everything on mobile or in your browser.
You can easily view and manage the passwords across your devices. However, you need to use the free version for your desktop or your mobile only. What this means is that if you opt for mobile, you can access the account on devices like your tablet, smartwatch, and phone, but not on your laptop.
⚙️ Features:
Free version
Compatible with MacOS, Linux, Windows, Android, iPad, and iPhone
Family sharing
Multi-factor authentication
1GB storage
💵 Pricing:
If you want to view your information on all types of devices, you will need to upgrade to a premium version by paying $36 annually solo and $48 annually for families.
With the Premium software version, you can share the logins, passwords as well as memberships with your trusted friends and family. You get 1GB storage and multi-factor authentication. The family plan gives six separate accounts, a dashboard, and shared folders to keep a watch on your security.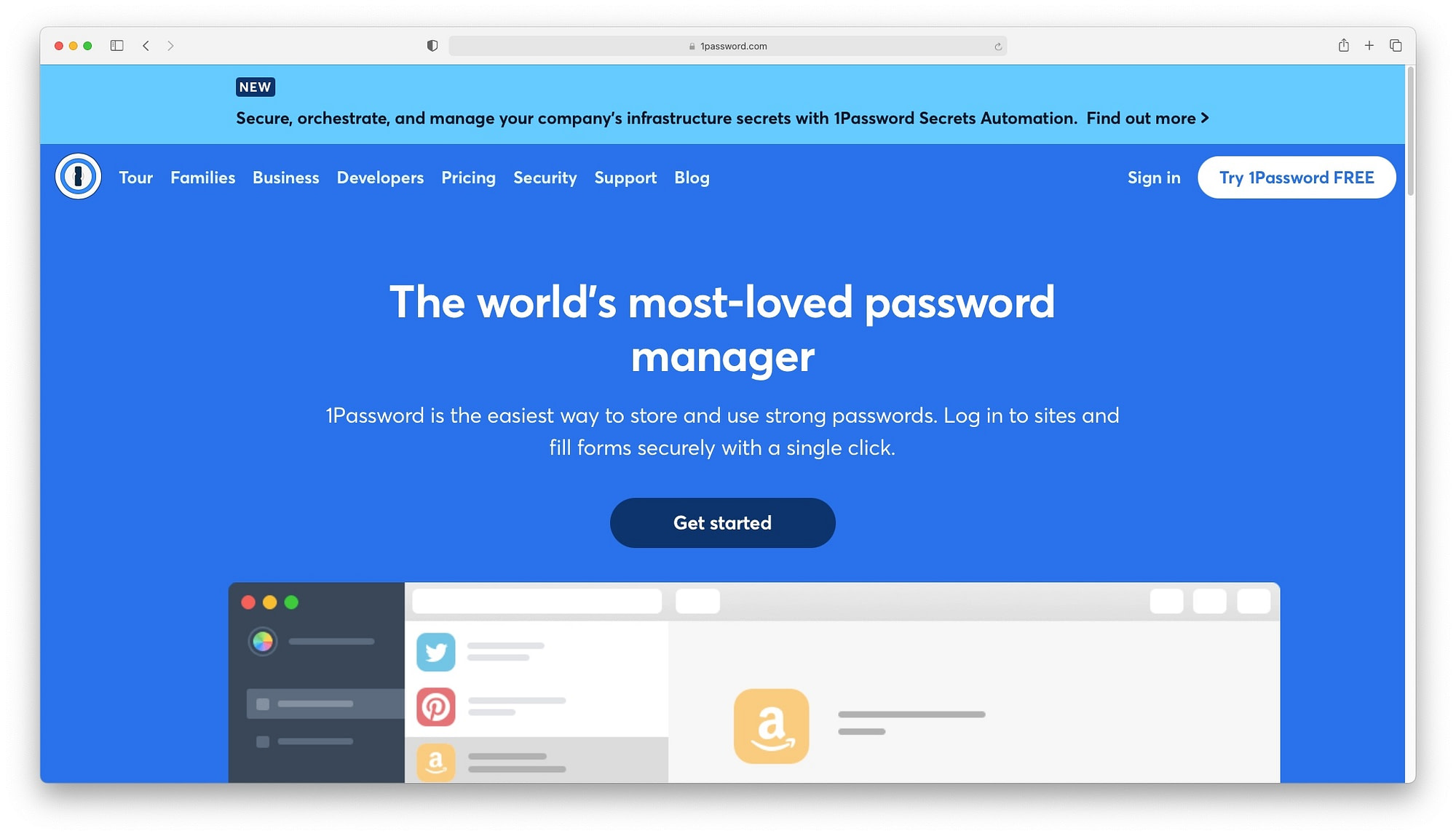 1Password is one of the best password managers for you. It will keep the login information secure and private while allowing you to access the accounts using a single master password.
⚙️ Features:
Free trial for 14 days
Compatible with Android, Windows, MacOS, Linux, iPhone, Chrome OS, and iPad
Family sharing
1GB storage
Two-factor authentication
💵 Pricing:
It does not offer a free version, however. There is a free trial that lasts for 14 days before you need to sign up. The individual subscription costs $36 annually and has 1GB storage and two-factor authentication.
It is possible to use your Face ID to access 1Password on your devices, and it covers five members – allowing you to share passwords and credit cards on a single app. Every member will get their vault so it's easier to control the information.
With Dashlane, you can enjoy a secure way to manage your passwords and keep the login information safe. It has a free app that allows you to store 50 passwords on one device.
The app comes with a clean and friendly layout and also monitors the dark web for leaked logins. You can choose to use the autofill service when you log in to websites and apps. Dashlane allows you to register someone as your emergency contact.
⚙️ Features:
A limited free version for 50 passwords on one device
Compatible with Windows, MacOS, Android, iPhone, and iPad
Family sharing
1GB storage
Two-factor authentication
💵 Pricing:
The premium plan starts at $60. There is another $120 Premium plan that adds ID-theft monitoring and credit.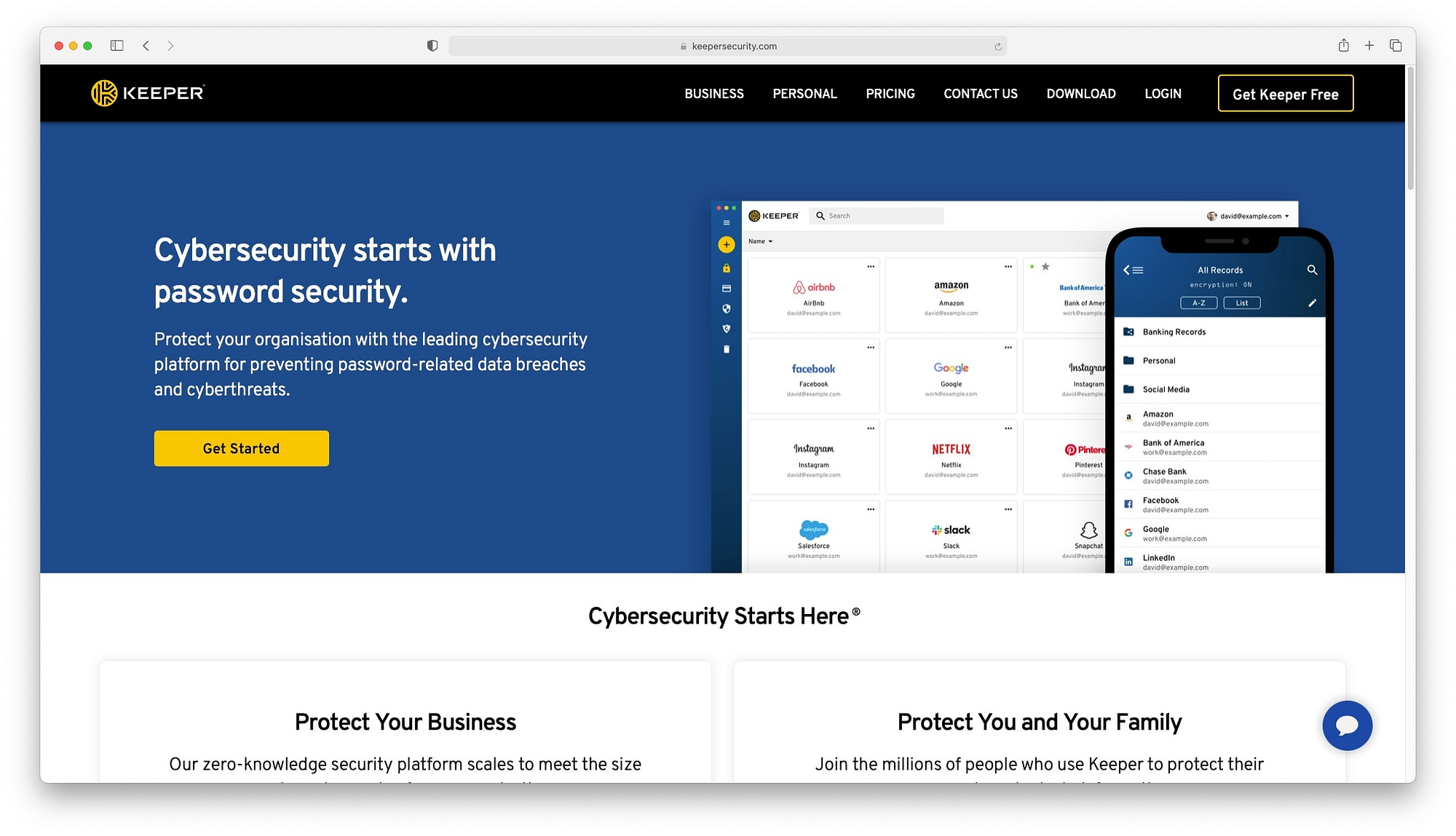 Keeper is a great password manager that allows you to manage your login information on Android, MacOS, Windows, and iOS devices for free.
Keeper will retain the full history of the passwords and comes with an optional secure file storage. If you restrict your usage to a single device, you can use Keeper for free. The password generator will help you come up with strong passwords whenever you open a new account.
⚙️ Features:
Limited free version with unlimited password on one device
Compatible with Windows, MacOS, Linux, Android, iPhone, and iPad
Family sharing
1GB storage
Two-factor authentication
💵 Pricing:
It has a premium version that starts at $35 a year where you can sync passwords on different devices, and for $45 a year, you enjoy 10GB file storage.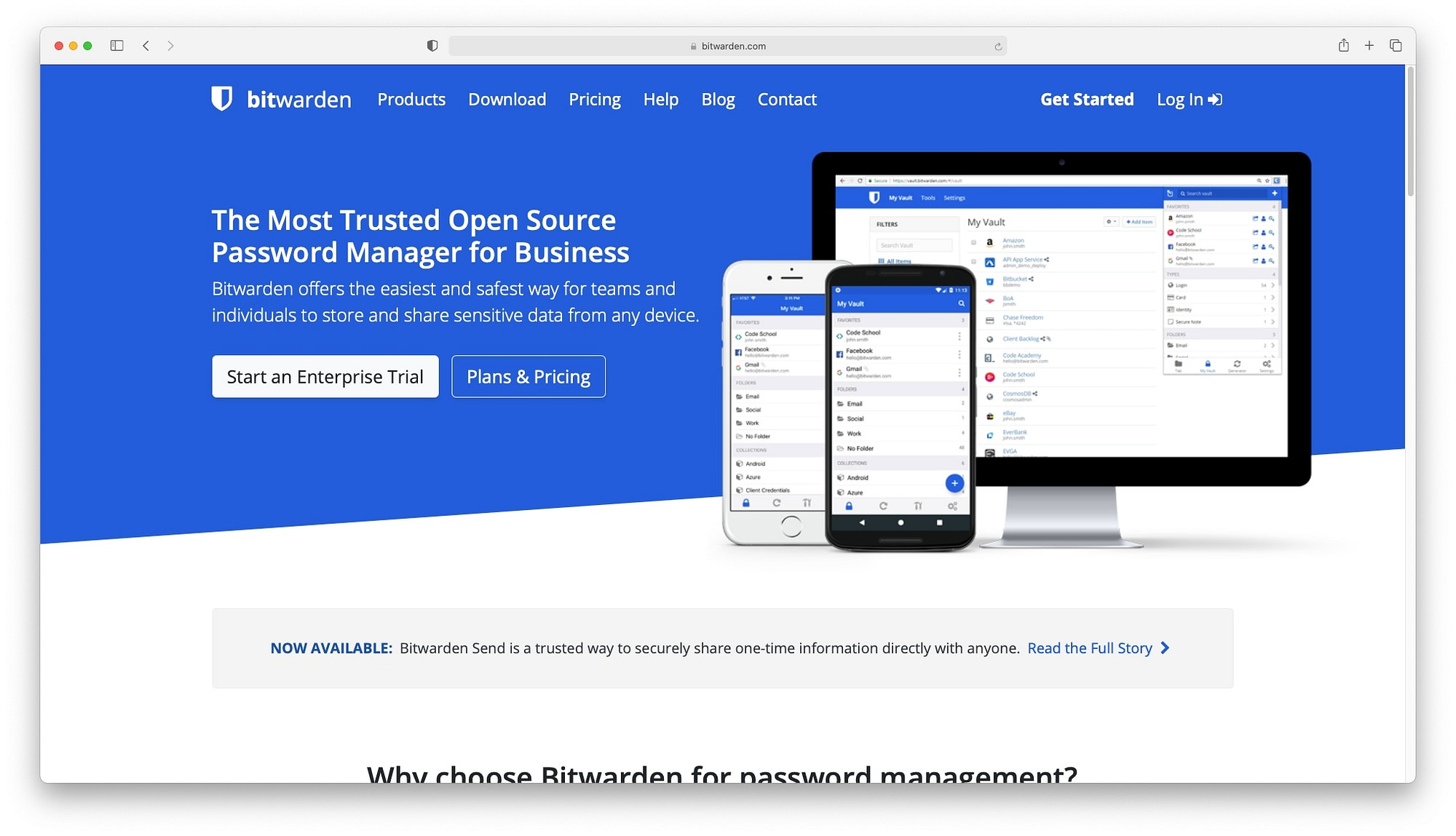 An open-source encryption software, Bitwarden is a password manager that can create, store, and fill the passwords automatically on your devices, for free. If you want a service that manages the login information, this software could be your best bet.
It also comes with a password-sharing tool so that it is possible to share your details with others securely.
⚙️ Features:
Free version
Compatible with MacOS, Windows, Linux, iPhone, Android, and iPad
Family sharing
1GB storage
Two-factor authentication
💵 Pricing:
It is one of the most cost-efficient software. At $10 annually, you get 1GB of data and for $12 annually, it is possible to add five family members and share information.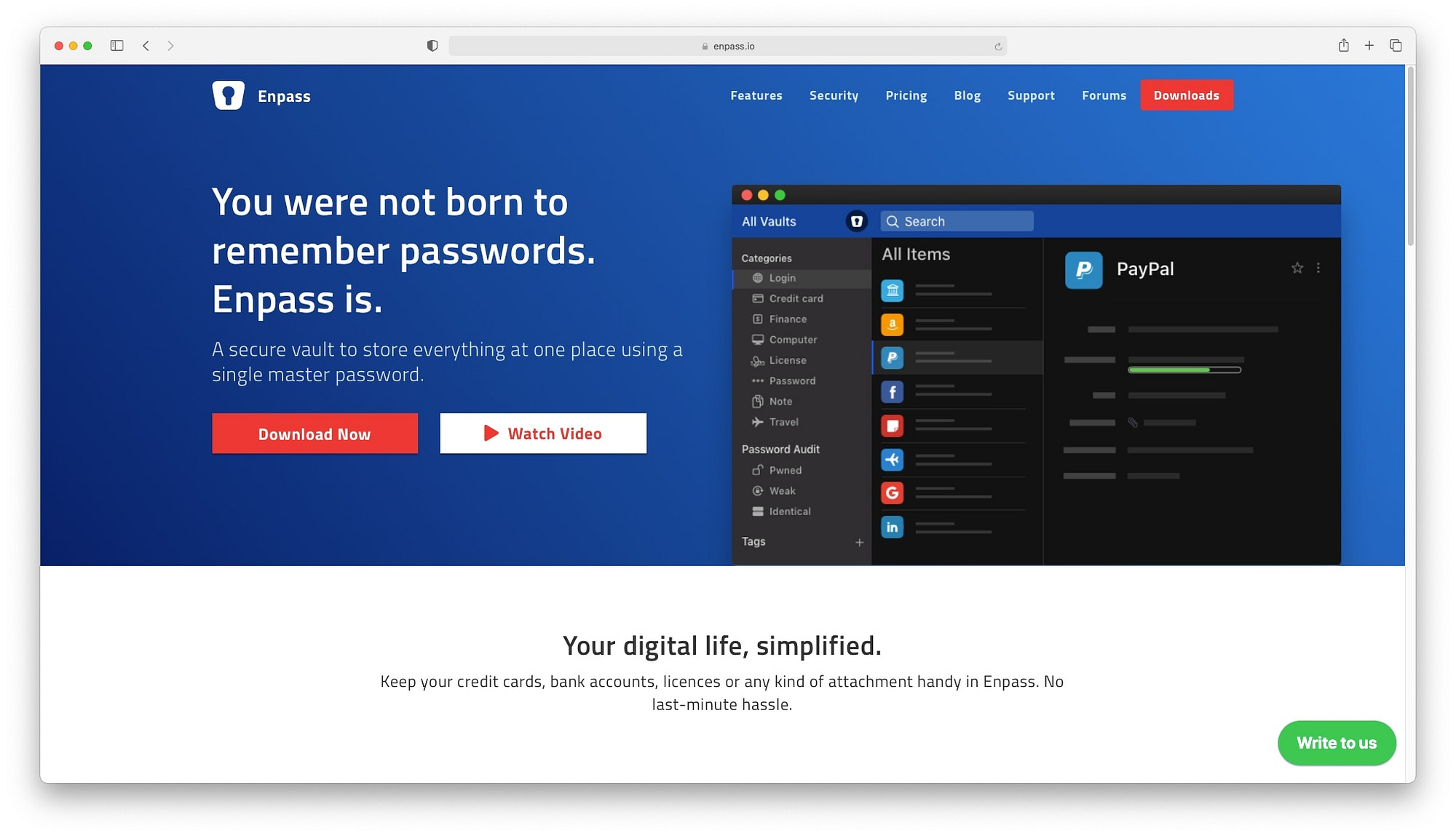 A powerful password manager, Enpass provides all the basic services and has desktop versions for Linux, PC, and Mac. There are no subscription fees and the app can easily backup and restore your data.
It has 256-bit AES encryption, allows cross-platform syncing and you can also import from the other password managers for quick and convenient migration. Enpass can autofill the passwords and it is free to download.
⚙️ Features:
Free desktop version
Compatible with Windows, MacOS, Linux
Family sharing
Unlimited password storage
💵 Pricing:
With a payment of $9.99, you can unlock everything and you can also use this app for free with Google Play Pass.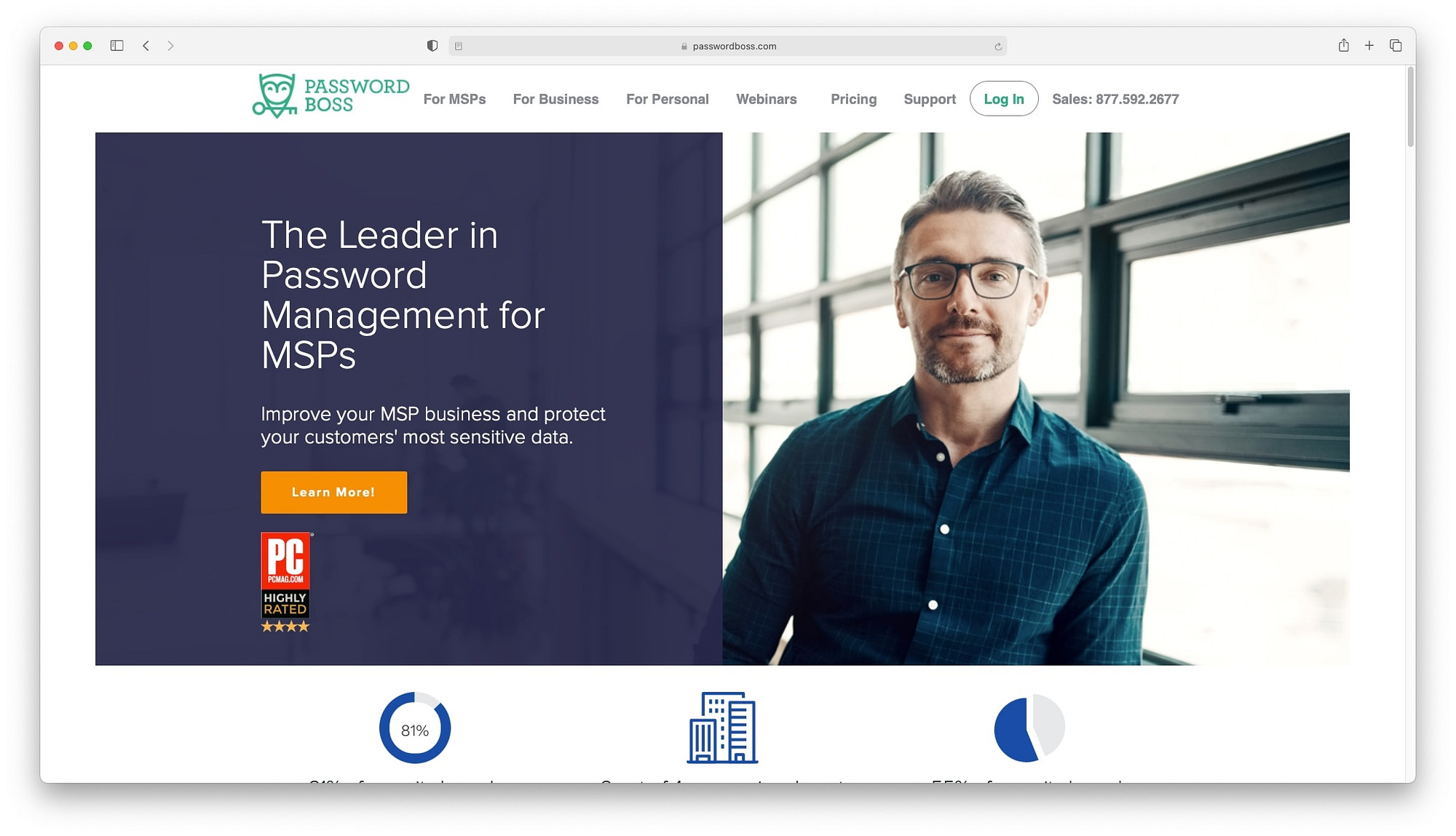 Password Boss is a great option among these best password managers. It is secure, powerful, and available for free. It works on Windows, iOS, and Android so you are covered no matter the type of device you own.
Password Boss always puts the security of the customer at the forefront. The password manager can generate and store passwords and has end-to-end security. It features two-factor authentication and has 256-Bit AES encryption. It can also import data from other password managers with ease.
⚙️ Features:
Free plan available
Premium plan at $2.50 a user monthly
Family plan at $4 per user monthly
Two-factor authentication
Unlimited password storage
💵 Pricing:
The premium plan starts at $2.50 a month for one user. Families can buy a plan for $4 a month and enjoy up to five licenses.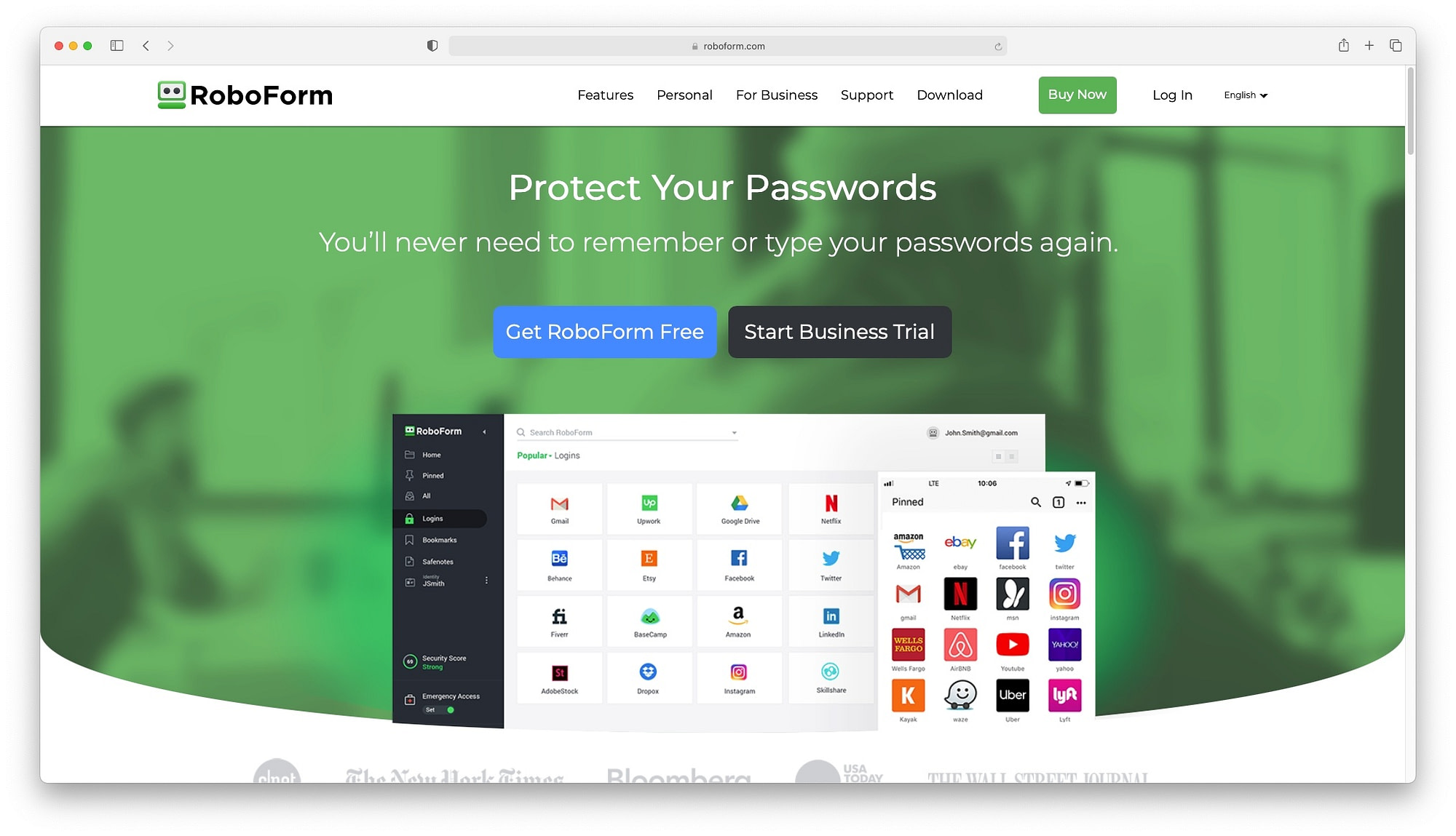 If you like autofills on websites, you must try RoboForm. It has the topmost form-filling capabilities. It will fill the most difficult forms with ease. RoboForm can also create different identities for web forms and can fill out basic forms and advanced ones with no errors.
It has password security auditing, multiple 2FA options, and secure bookmarks storage. RoboForm has form filling, password strength audit, and secure storage of your bookmarks. You can easily access all the favorite sites on any browser you are using. The family plan allows you to add five users while the free plan has a 30-day trial and 30-day money-back guarantee.
⚙️ Features:
Free version
Compatible with Windows, MacOS, and mobile devices
Family sharing
Two factor authentication
💵 Pricing:
Prices start at $16.70 for individual users. For families the price starts at $33.40 for 5 users. Business plans are available and the starting price is $39.95 for the first 10 users.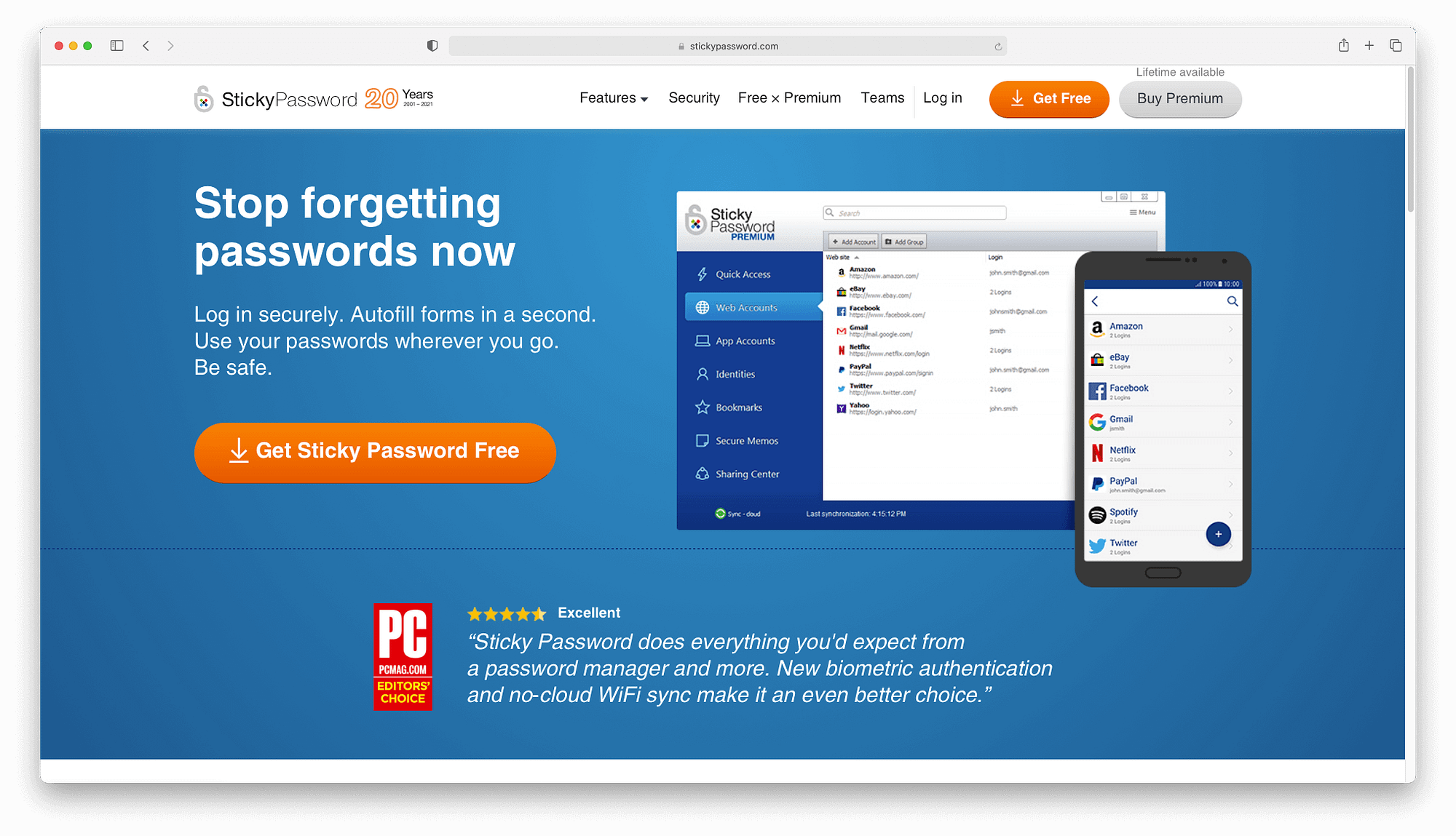 Sticky Password will keep your logins encrypted and it has biometric compatibility on mobile apps. The premium version comes with cloud backup and local Wi-Fi syncing service across your devices. They will donate the premium account fee to the wildlife conservation trusts they work with.
⚙️ Features:
Free version
Compatible with Android, iOS, Windows, and MacOS
Family sharing
Two-factor authentication
💵 Pricing:
The premium version is $29.99 per annum.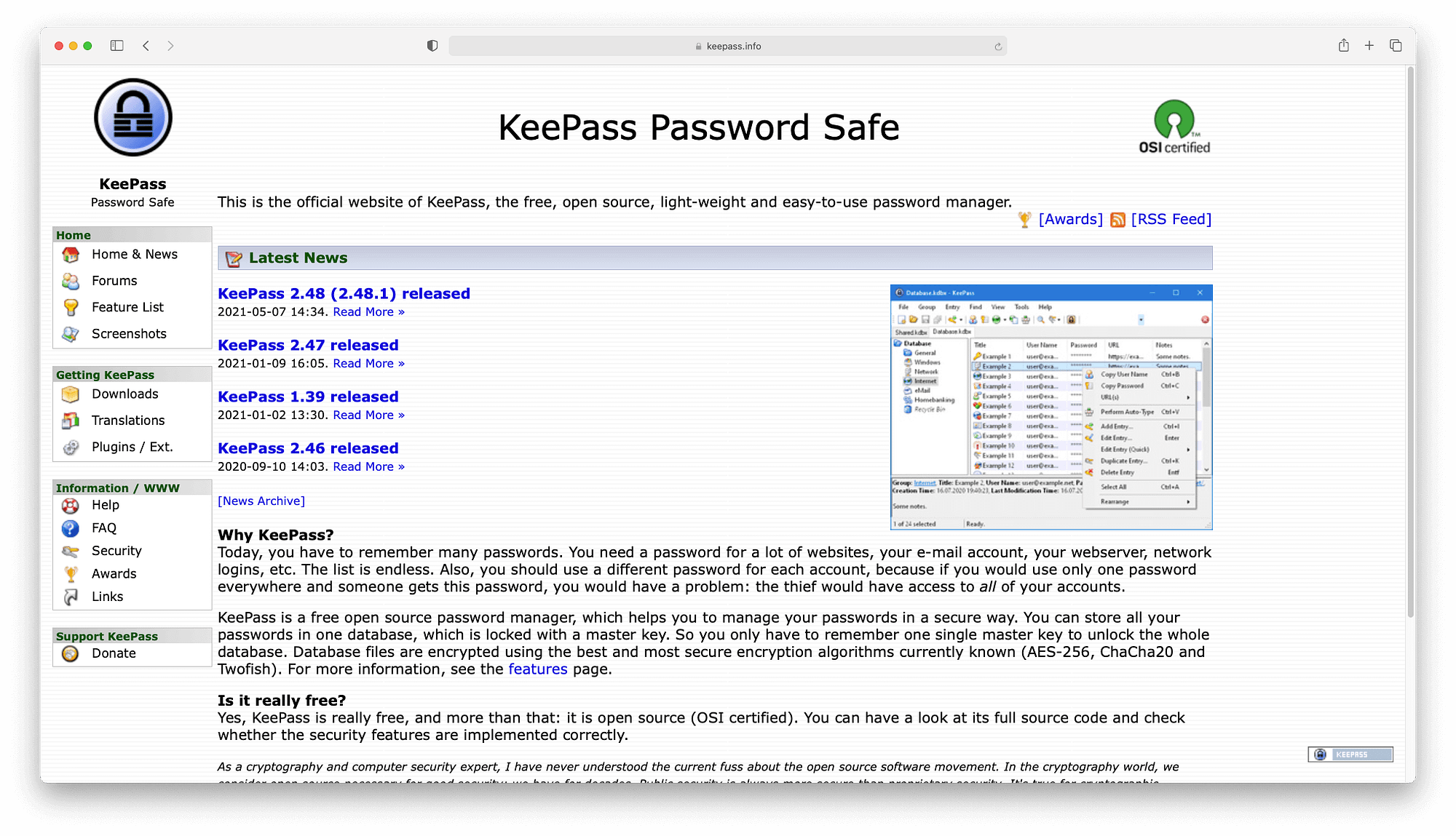 KeePass is a totally free open-source software. It is better for professional users because the user interface will take some fiddling to ensure that all independently built versions work in sync. The software can be a bit difficult to use for beginners. But, if you are up to the task of learning, you can give it a try.
It has two versions and whatever is not in the box can be worked around by using a mobile app or a plugin. It stores the data locally on your device and offers great security.
⚙️ Features:
Free
Accepts donations
Compatible with MacOS, Windows, Linux, Android, iPhone, Chrome OS, and iPad, Windows Phone, Palm OS, and BlackBerry
Family sharing
Unlimited storage
💵 Pricing:
KeePass is totally free.
Final thoughts on the best password managers
We tested some of the top password managers that are reliable and available for you. No matter which one you end up choosing, your data will be safe! It is best to make a final decision considering your priorities and needs.
We think that the best overall tool on this list is 1Password. It has all the features you might need and comes at an affordable price point.
Alternatively:
If you do not want to spend any money on your password manager and have the skills to work with a bit more complex tool, use KeePass.
A possible alternative here is LastPass – but only if you're okay with using your password manager on one type of device. The free plan is either desktop-only or mobile-only.
If you are looking for the best family sharing options, go with LastPass, Password Boss, or Dashlane.
Dashlane will also change your passwords for select sites automatically based on leaks found online.
If you're running a WordPress site, check out our guide for setting up passwordless login.
And, of course, if any of the more specialized features have caught your interest when reading through this list of the best password managers, then you should go with the tool offering it! As we said, your data will be safe with either one of these solutions.
Have any questions about this list? Feel free to ask in the comments below.
Free guide
5 Essential Tips to Speed Up
Your WordPress Site
Reduce your loading time by even 50-80%
just by following simple tips.