There's a lot to consider when launching an online store. Getting a business up and running can be a time-consuming and costly venture. For this reason, you may want to look into the best free WooCommerce themes to make the process easier.
A free WordPress theme will help you stay on budget as you launch your new site and brand. Plus, if it's compatible with WooCommerce, you'll have access to the key features your store needs to succeed.
In this post, we'll discuss must-have features, design, and performance for a quality WooCommerce WordPress theme. Then we'll share our top ten picks. Let's get to it!
What to look for in a WooCommerce WordPress theme
Finding quality WooCommerce WordPress themes is harder than you might think. While there are some themes advertising themselves as ideal for online retailers, they may be missing key features that will make running your store easier.
Likewise, there are multipurpose themes that adapt seamlessly to eCommerce sites. If you focus only on options with "WooCommerce" in their names, you may miss out on a better one.
The key to spotting a quality WooCommerce WordPress theme is to keep your eyes peeled for a few crucial features:
Integration with WooCommerce. This may seem obvious, but it's important to choose a theme that works with your eCommerce plugin out of the box.
Shop page layouts. WooCommerce adds product, cart, and checkout pages to your site. An ideal theme for online stores will include layouts for these pages.
Customization options. It's important to make your online store your own and customize it to appeal to your target audience. Look for a theme with advanced customization features as well as compatibility with page builders.
Performance optimization. Slow loading times can have negative effects on your store's bounce rate and customer loyalty. A lightweight theme is a necessity for keeping page speed as high as possible.
Of course, the theme will also ideally appeal to your personal taste, which is going to be subjective.
Finally, by limiting your choices to free themes, you can keep the cost of your store down.
Ten best free WooCommerce themes
Next up, our very own Neve. Its free Shop starter site provides all the page layouts you need for a top-notch WooCommerce store. We've also designed it to be one of the fastest themes on the market, as you can see from the test results below.
Additionally, all our themes integrate with the most popular page builders, including Elementor, Beaver Builder, and more.
Total downloads: 2,998,662
Rating: 96% (1000 reviews)
Performance grade: A 94
Page size: 413.5 KB
Requests: 14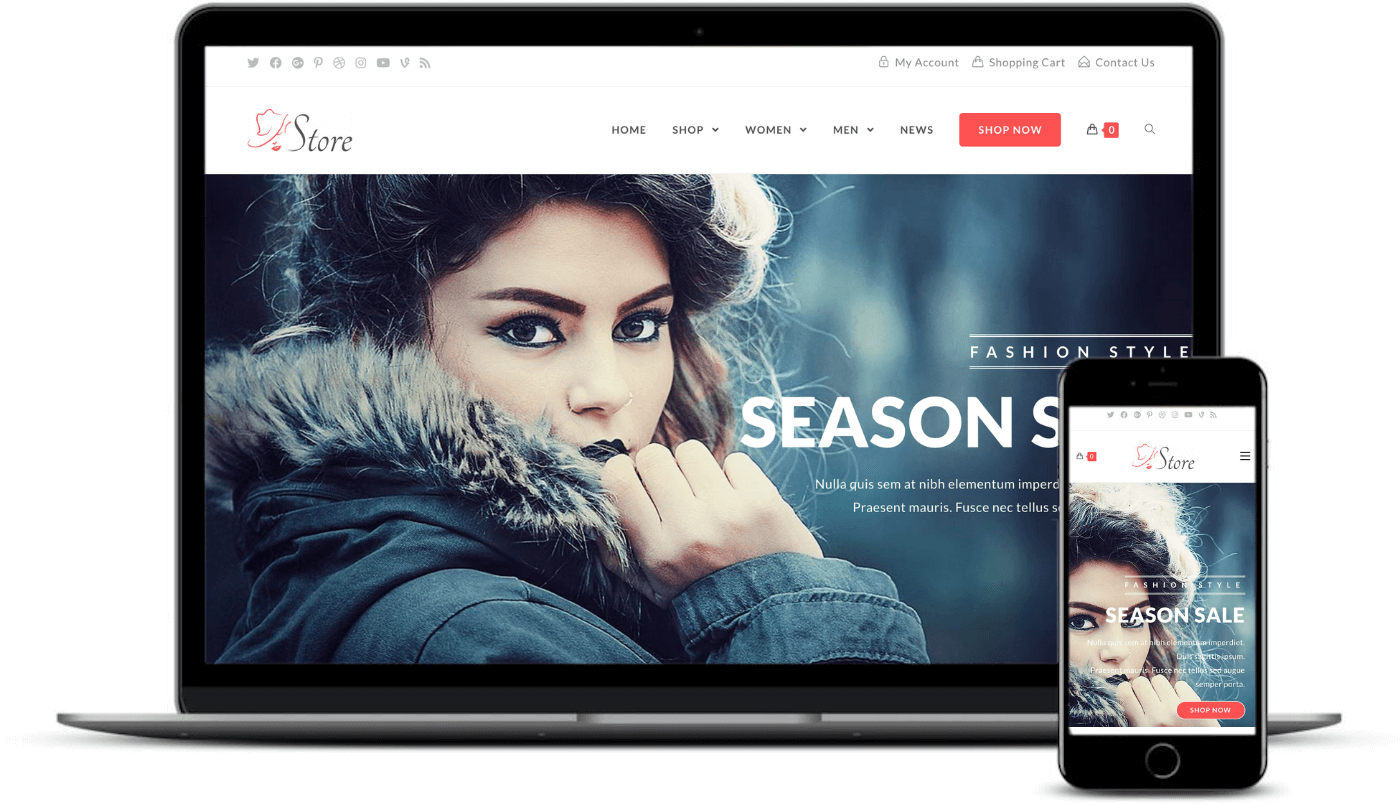 OceanWP is also a multipurpose theme. However, it's also well-known for pairing extremely well with WooCommerce. In fact, it has several native eCommerce features, such as a cart pop-up, floating add-to-cart bar, and product quick view displays.
What's more, it integrates with a long list of page builders (including Elementor and Beaver Builder). Although most of OceanWP's demos require a premium license, there are 13 available for free, one of which is for online stores.
Total downloads: 5,411,433
Rating: 98% (5315 reviews)
Performance grade: B 90
Page size: 578.2 KB
Requests: 24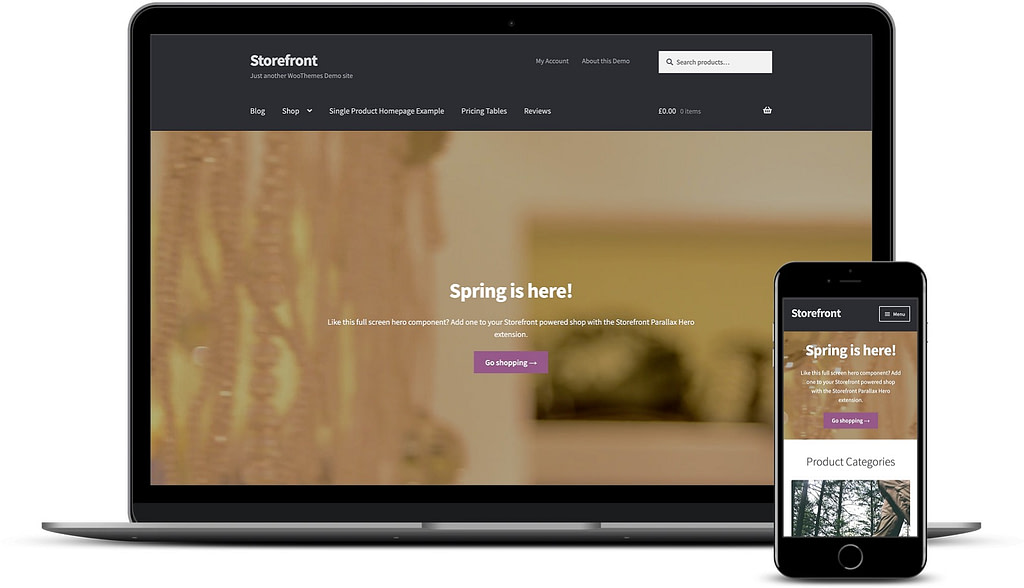 Likely one of the best-known free WooCommerce WordPress themes, Storefront is a popular pick. It helps that it was developed by the same team behind WooCommerce.
Offering "deep integration" with WooCommerce and its extensions, you won't find a better theme in terms of compatibility. Performance-wise it holds up, although it's a bit lacking in customization options compared to the other multipurpose themes we've highlighted.
Total downloads: 6,325,982
Rating: 88% (136 reviews)
Performance grade: A 91
Page size: 591.9 KB
Requests: 24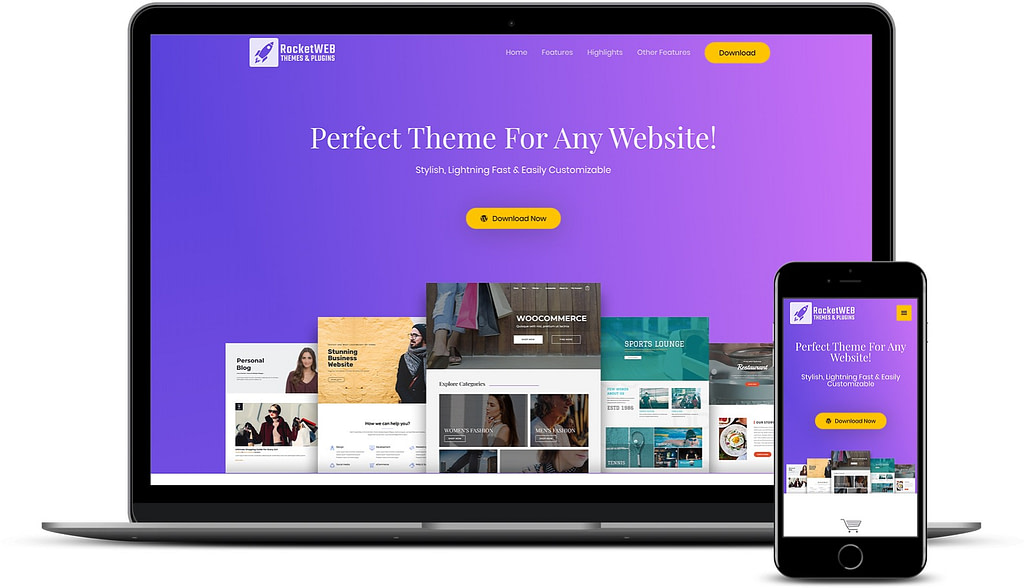 Astra is one of the most popular multipurpose solutions in the WordPress Theme Directory. It's well-known for its minimalist style and impressive performance.
Customization-wise, Astra provides a relatively blank slate for you to personalize. It integrates well with multiple page builders including Elementor and Beaver Builder. Additionally, it comes with many starter templates, including several built with eCommerce in mind.
Total downloads: 7,707,124
Rating: 98% (5091 reviews)
Performance grade: A 94
Page size: 426 KB
Requests: 15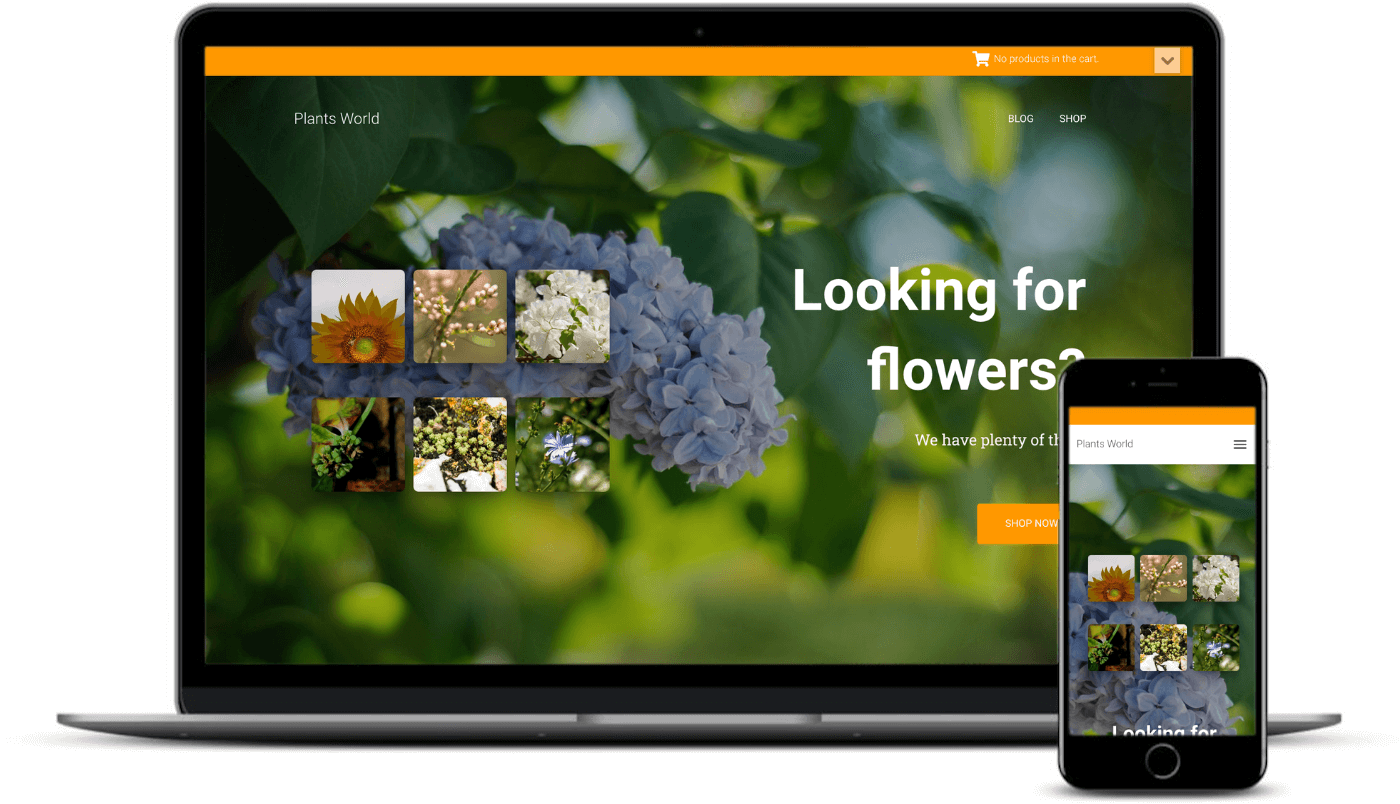 Just as popular according to the WordPress Theme Directory's numbers, our Hestia Lite theme is another quality option. We've created our eCommerce starter site for online retailers looking for a boost when it comes to design.
However, Hestia Lite also integrates easily with multiple page builders and includes our unique Customizer options.
Total downloads: 3,326,064
Rating: 96% (516 reviews)
Performance grade: B 90
Page size: 588.7 KB
Requests: 26
Zakra is another multipurpose theme that adapts well to use for online stores. It includes multiple eCommerce demos to help you get started with your site's design.
It also integrates with Elementor for easy customization. While it doesn't include as many WooCommerce-related features as most of the other themes on this list, it is well-optimized for fast loading times.
Total downloads: 1,271,090
Rating: 100% (530 reviews)
Performance grade: A 9
Page size: 421.4 KB
Requests: 17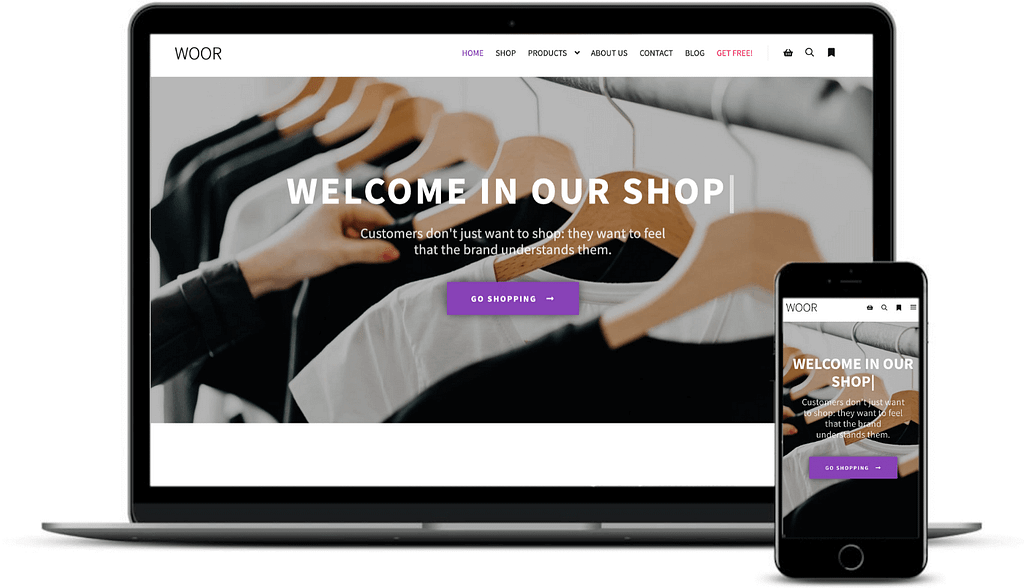 Rife Free is designed primarily for portfolio and photography sites. However, it includes WooCommerce integration and its image galleries transition seamlessly to featured product listings when you apply its WooCommerce shop demo.
This theme is also compatible with Elementor and includes hundreds of unique Customizer options. You can easily personalize its demos to reflect your online shop's brand identity.
Total downloads: 529,100
Rating: 98% (310 reviews)
Performance grade: B 88
Page size: 856.7 KB
Requests: 31
We clearly think multipurpose themes are excellent for WooCommerce sites. However, there is something to be said for choosing a theme built specifically for online stores.
ShoppingCart includes many eCommerce widgets and front page sections you can personalize via the Customizer. Although page builder integration is not among its features, it uses its own system of 'components' for easy customization.
Total downloads: 268,573
Rating: 96% (24 reviews)
Performance grade: B 89
Page size: 607.1 KB
Requests: 27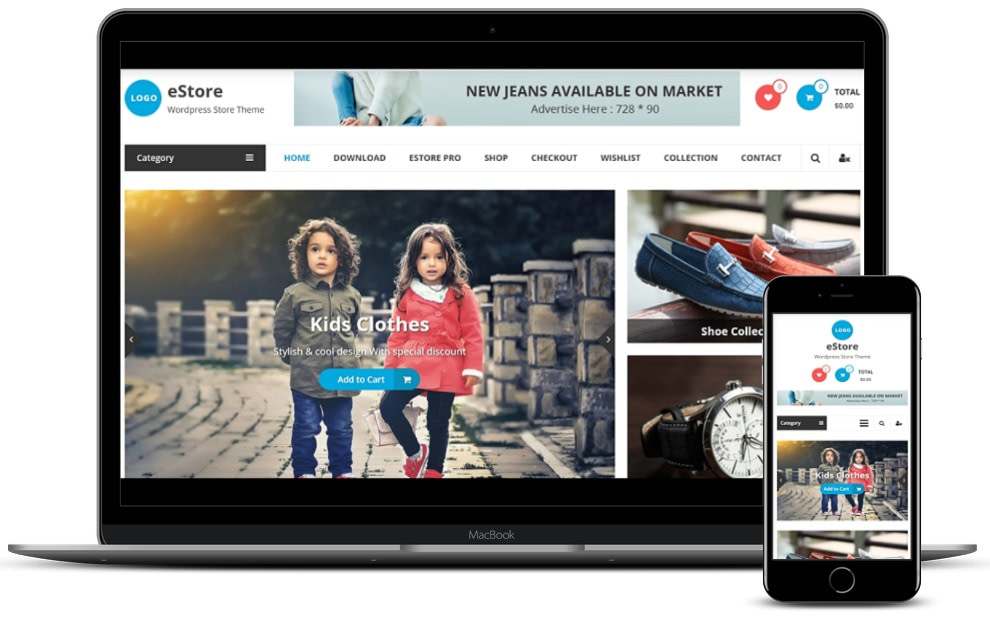 eStore is a WordPress theme built specifically for eCommerce. The free version does not come with advanced WooCommerce features – you will benefit from a few basic online shop settings – but the design looks great.
eStore works well with the most popular page builders, so you can easily create the layouts you like. It's nice that this theme offers seven WooCommerce-ready starter sites for different niches. However, only one demo is free.
Total downloads: 670,385
Rating: 94% (107 reviews)
Performance grade: B 86
Page size: 403.6 KB
Requests: 49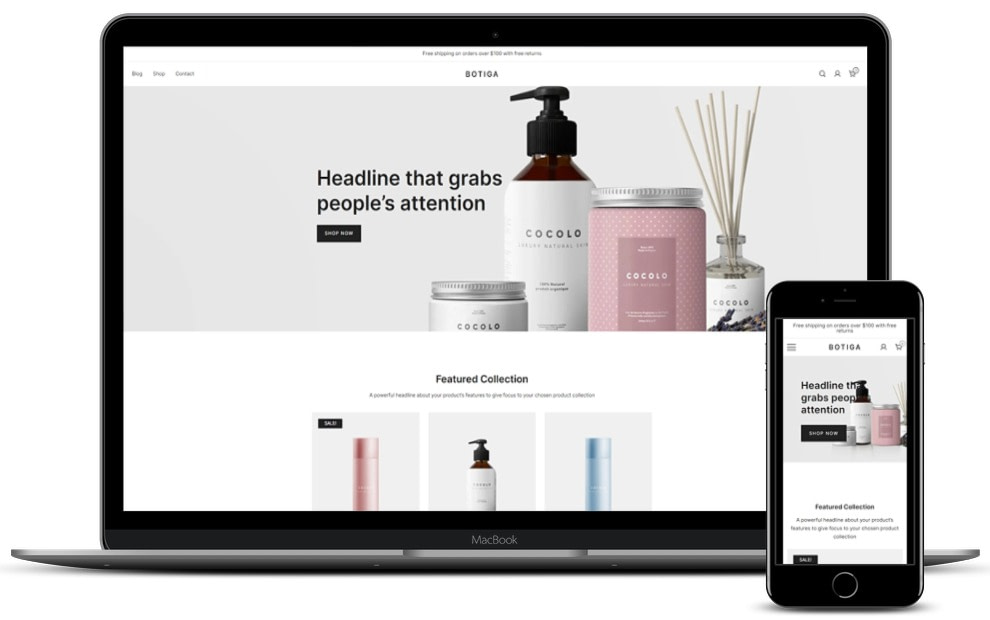 The next entry on our list of free WooCommerce WordPress themes features a soothing minimalist design and deep integration with WooCommerce. Botiga is translation-ready for international sales, too.
This theme relies on the Customizer for personalization and provides two starter templates (one free and one premium). It is also compatible with Gutenberg.
Total downloads: 116,344
Rating: 98% (77 reviews)
Performance grade: B 86
Page size: 403.7 KB
Requests: 49
How to choose the best free WooCommerce theme for your store
Any of the themes we've covered in this post would be a smart pick for your WooCommerce site.
However, if you need a little more direction, we would suggest choosing one of these three, depending on your priorities.
Once you've chosen the right theme for your store, you can follow our guides to:
Do you have any questions about free WooCommerce WordPress themes or how to choose one? Leave them for us in the comments section below!
Free guide
5 Essential Tips to Speed Up
Your WordPress Site
Reduce your loading time by even 50-80%
just by following simple tips.
* This post contains affiliate links, which means that if you click on one of the product links and then purchase the product, we'll receive a commission. No worries though, you'll still pay the standard amount so there's no cost on your part.